7 Day Mediplanner Pill Container
Product Number : PR61521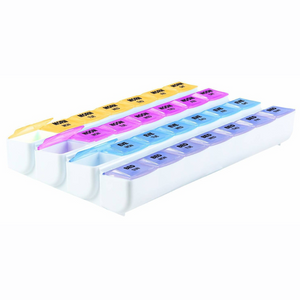 View Similar Products
Product Information
7 DAY MEDIPLANNER PILL CONTAINER
Looking for a handy and convenient way to manage your daily medication regimen? Look no further than the 7-Day Mediplanner®.
This pill container is great for securely holding pills and helps to maintain a Morning, Noon, Evening and Bed medication schedule.
The lids are easy to open but keep your pills secure, and the contoured design makes it easy to remove pills from the compartments. Plus, the see-through lids allow for easy viewing of your medications.
The best part? The compartments are colour coded for up to four times per day medication planning, so you can easily and effectively keep track of your daily doses.
Make your life easier with the 7-Day Mediplanner®.
Keep your medication organized and on track with the 7-Day Mediplanner®. This handy pill container features easy to open lids which secure contents, yet are translucent for quick inspection of what's inside.
Color coded compartments remind you when it is time to take morning, noon, evening or bedtime pills so that managing your daily routine is simpler than ever!
Say goodbye to forgetting dosages - get ready for effortless organization and peace of mind with the 7-Day Mediplanner®.