Footstool with Handrail
Product Number : PR60222H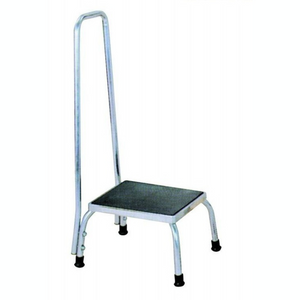 View Similar Products
Product Information
FOOTSTOOL WITH HANDRAIL
Looking for a way to make getting in and out of the bathtub easier?

Check out Able2, the sturdy, steady footstool that provides a rubber mat surface and chrome-plated steel frame.

This stool makes access to the bath much easier, and with a base of legs measuring 305 x 406mm (12 x 16") and a height of 228mm (9"), it's just the right size.

Plus, it's available with a handrail for even more support.

The handrail is 810mm (32") high.
Ready for a safer, easier bathing experience? Look no further than Able2's footstool with handrail!
This trusty tool provides the support and stability you need to confidently enter or exit your bath. The base measures 12 x 16" while the height of the stool is 9", so it fits perfectly in any bathroom size.
Plus, its 810mm (32") tall chrome-plated steel frame offers extra grip and security - all on top of a rubber mat surface that keeps slipping at bay!