Gents Bootie - Albert
Product Number : PR55152/BL/10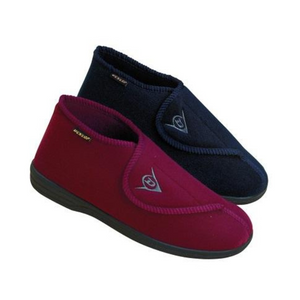 View Similar Products
Product Information
GENTS BOOTIE - ALBERT
Able2 slippers are the perfect solution for those with swollen feet.
The wide opening and hook and loop fastening make them easy to put on and take off, while the machine washable design means they're always clean and ready to wear.

The non-slip hardwearing soles are perfect for indoor or outdoor use, while the variety of sizes and male and female versions make them perfect for everyone.

Order your pair today and enjoy the comfort and style of Able2 slippers.
Keep your feet comfortable in the stylish, adjustable GENTS BOOTIE designed by ALBERT. These superior slippers provide a secure fit with hook and loop fastening while their wide opening makes them incredibly easy to slip on and off — no matter how swollen your feet are!
Able2 have also ensured that these fashionable slippers remain clean with machine-washable designs; plus they feature non-slip hardwearing soles so you can wear them indoors or outdoors with full confidence.
With sizes perfect for every individual male & female foot, don't miss out - get yourself an unbeatably comfy pair of GENTS BOOTIES today!