StrengthTape - 5m Roll Precut - Light Blue
Product Number : PR15550/LB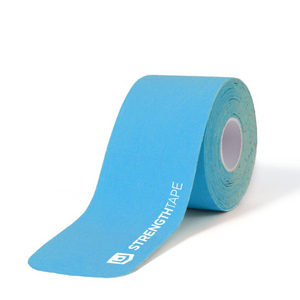 View Similar Products
Product Information
StrengthTape - 5m Roll Precut - Light Blue
Provides Stability & Support Kinesiology tape supports muscles, joints, and tendons.
Ion Health Technology Infused With Negative Ions For Increased Energy & Health Benefits Easy To Apply,
Comes in Pre-Cut Strips For Easy Application.
StrengthTape provides support and stability for muscles, joints, and tendons without limiting the range of motion like a traditional brace.
StrengthTape goes beyond the benefits of common athletic tape by infusing our Ion Health Technology.
Studies suggest that ions may help you feel better and increase energy.
6 Pre-Cut Mini-Kits Include: Foot & Ankle Knee Shoulder Elbow & Wrist Back & Neck Thigh Pre-Cut Rolls: 5 meter rolls, 10" Pre-Cut Strips: Uncut Rolls: 35 meter rolls
StrengthTape offers a reliable solution for stability and support to muscles, joints, and tendons, surpassing traditional athletic tape. This tape does not restrict movement like a conventional brace and comes in pre-cut strips for effortless application.
What sets StrengthTape apart is its incorporation of Ion Health Technology, infused with negative ions. Research suggests that these ions can contribute to increased energy and better overall health.
To cater to different needs, StrengthTape is available in six pre-cut mini-kits for specific areas, such as the foot and ankle, knee, shoulder, elbow and wrist, back and neck, and thigh. Uncut rolls are also available in 5-meter and 35-meter sizes. Applying the tape is easy and hassle-free.