Carell Bed Bath Wipes
Product Number : PR45114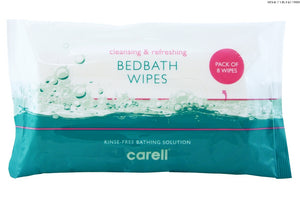 View Similar Products
Product Information
CARELL BED BATH WIPES
Carell Bedbath Wipes are a simple, rinse-free bathing solution designed to clean and moisturise all areas of the body in one easy step.
Conveniently replacing the more traditional methods of bed bathing such as; preparing bowls, washcloths, water, soap, lotions, and towel drying; they are also cost-effective which reduces laundry bills and nursing time.
These large, soft wipes are designed for use on the following areas: face, neck, chest, right & left arm, perineum, right & left leg, back, and buttocks.
A pack of 8 is ideal for a complete full body wash and can be used warmed (in a Clinell warmer) or un-warmed (straight from the pack) for a pleasant patient experience.
The wipes are dermatologically tested, alcohol and lanolin free whilst containing a patented pH-neutral formula with aloe vera and added moisturisers to promote healthy, soft skin.
Cleanliness is essential, and Carell Bed Bath Wipes are the perfect solution for making sure you get squeaky clean head to toe. With one quick step, these large soft wipes effectively cleanse your full body from face to buttock with ease!
Plus they're easy on skin due to being dermatologically tested without alcohol or lanolin - not even a hint of nasties in sight.
Experience less mess with this cost-effective alternative as it minimizes laundry bills whilst maximizing nursing time; what's more convenient than that? Get yourself 8 quality packs today so next bathtime will be better than ever before!.