Harley Original Ring Cushion
Product Number : SP44837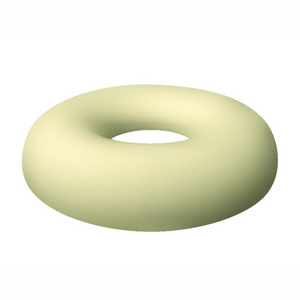 View Similar Products
Product Information
HARLEY ORIGINAL RING CUSHION
Constructed from moulded polyurethane foam. The contoured profile provides ultimate comfort and relief. Provides relief to endangered areas when sitting for long periods.
Lightweight and easy to transport.
Fitted cotton inner cover (outer covers available).
Size: 44cm (17½") diameter x 8cm (3") deep.
If this product is showing as out of stock (red dot), please note that as we manufacture this product on site it can normally be manufactured and available within 2/3 days of receiving your order.

Are you looking for true comfort and relief when you sit for long periods? Look no further than the HARLEY ORIGINAL RING CUSHION. Enjoy the contoured profile of moulded polyurethane foam which provides ultimate comfort and relief.
It's also lightweight, easy to transport, and comes with a fitted cotton inner cover (with optional outer covers). Finally, the 44cm (17½") diameter x 8cm (3")deep size has you covered with perfect support wherever you need it.

Don't put up with uncomfortableness any longer! Get your HARLEY ORIGINAL RING CUSHION today and experience the difference for yourself! Remember: true comfort and relief are only a cushion away.