Lets Go Indoor Rollator
Product Number : PR30285
Product Information
LETS GO INDOOR ROLLATOR
The Lets Go Indoor Rollator is an entirely new and practical walking aid.

It is light, flexible and beautifully designed for indoor use in the home, hospital or care home.

It is comfortable to use and easy to maneuver over the carpet and household thresholds, and it is perfect for getting into narrow spaces such as toilets and bathrooms.

The hand-operated brakes are easy to apply and can be used as parking brakes.

The handle is soft and comfortable and can be adjusted to suit the height of the user.

The brakes are also linked together so that both brakes can be operated with just one hand.

The Lets Go comes with a useful carry bag and clip-on tray, which is ideal for transporting drinks, plates, or any other small lightweight items from room to room.

The Lets Go can be neatly folded away when not in use or for transporting in a car.

Aluminium finish with stylish beech appearance on the rear legs.
Don't let an ailment keep you from enjoying life! With the Lets Go Indoor Rollator, you can be mobility-confident indoors. This innovative and practical walking aid is a game changer when it comes to navigating tight spaces, like bathrooms and closets. It's light, flexible, and designed with comfort in mind–making it perfect for elderly or handicapped individuals who need help getting around their home.

The hand-operated brakes make for easy use, and the handles are adjustable so that users of any height can find their perfect fit. Plus, the brakes are linked together so that they can both be operated with one hand — making it easier than ever to maneuver around your house.
With this convenient rollator, you'll have greater freedom to get around—so don't hesitate to take control of your mobility today!
choosing a selection results in a full page refresh
Lets Go Indoor Rollator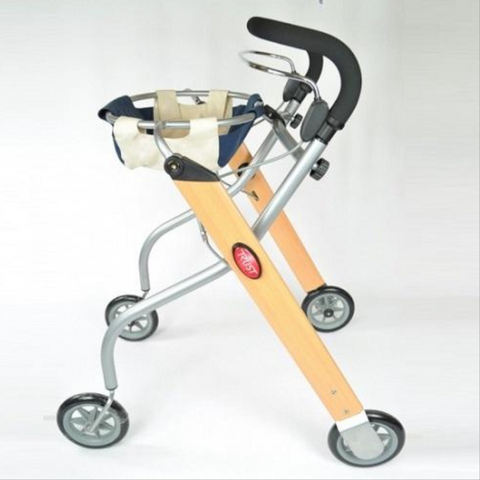 With VAT Relief

Flash Sale