Home Safety Alert
Product Number : PR70145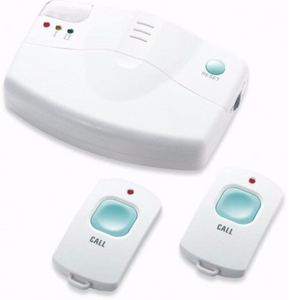 View Similar Products
Product Information
HOME SAFETY ALERT
The Able2 wireless Nursecall system takes the stress and worry out of checking on elderly or vulnerable loved ones.

With the ability to monitor up to 30 call buttons, door, or movement sensors, you can rest assured that your loved one is safe and sound. The central monitor station indicates the call by voice and lit display, while the portable carer pagers receive a voice call signal, so you can be anywhere in the house and still be alerted to a need.

The call button can be wall mounted or used as a pendant, making it easily accessible for those who need it. When used with the Nursecall Voice Alert, sensor mats can be activated by the system, further ensuring the safety of your loved one.

All units are battery operated (batteries not included), but the monitor and movement sensor can use optional main adaptor power - 12v 250 mA.
No more worrying about how your loved ones are doing when you're not around! Introducing HOME SAFETY ALERT by Able2! This revolutionary wireless Nursecall system is sure to put your mind at ease. With the simple press of a button, your elderly or vulnerable family members can reach out for help anytime, anywhere.
The system can be used with up to 30 call buttons, door and movement sensors to ensure around-the-clock safety and security.
Plus, it's easy to use – just wall mount the call button or use it as a pendant so that everyone has access to it whenever they need it. With the Nursecall Voice Alert sensor mats, you can also be assured that unexpected activity won't go unnoticed.
So don't wait any longer – keep your loved ones safe and secure with HOME SAFETY ALERT and experience the peace of mind knowing you can rely on this durable system!