Professional Loupe Magnifier
Product Number : PR70109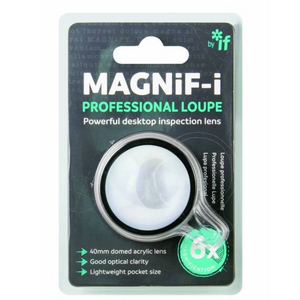 View Similar Products
Product Information
Professional Loupe Magnifier
The Able2 Professional Loupe Magnifier features a high-quality 40mm domed acrylic lens, designed to provide clear and distortion-free magnification for professional use. The magnifier is perfect for a variety of applications, including jewelry making, watch repair, circuit board inspection, and more.
The lens is mounted in a durable chrome-plated metal frame, which is both lightweight and comfortable to use. The frame features a foldable design, making it easy to store and transport, and includes a convenient neck strap to keep the magnifier close at hand.
The Able2 Professional Loupe Magnifier provides 2.5x magnification, making it ideal for detailed work where precision is essential. Whether you're a professional jeweler or watchmaker, or simply need a magnifier for your hobby or DIY projects, the Able2 Professional Loupe Magnifier is an excellent choice.