Dementia & Alzheimer's Day of the Week Wall Clock
Product Number : PR70102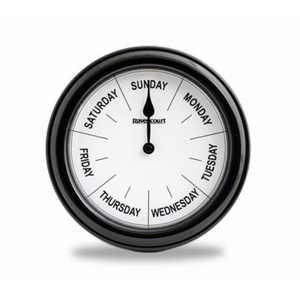 View Similar Products
Product Information
DEMENTIA & ALZHEIMER'S DAY OF THE WEEK WALL CLOCK
Able2 is the perfect solution for those living with dementia and Alzheimer's.

This easy-to-see clock only displays the day of the week, so it's great for those who are used to telling time with a traditional clock, but now need a simpler solution.
The large, bold wording and hands make it easy to see, and the shatterproof acrylic lens and attractive black plastic surround make it look great in any room.

Requires 1x AA battery (not supplied). 20cm (8) dia.
Make remembering the day of the week a breeze for those with dementia and Alzheimer's! Able2 offers an easy-to-use wall clock designed specifically to help solve this issue - it only displays what day it is in large, black text on a shatterproof acrylic lens.
It looks great too, set atop an attractive plastic border that requires 1x AA battery (not included). Don't let memory issues be your downfall; get yourself one 20cm diameter clue today!