7 Day AM/PM Push to Open Pill Organizer
Product Number : PR61508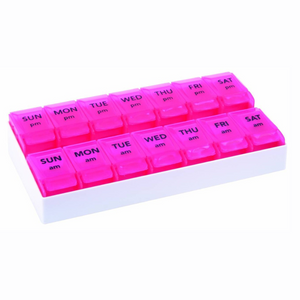 View Similar Products
Product Information
7 DAY AM/PM PUSH TO OPEN PILL ORGANIZER
The 7-Day AM/PM Push-to-Open Pill Organizer gives you easy access to your pills with the press of a finger. This easy-to-use pill box has a unique opening system that keeps pills secure and opens with minimal effort.
The tray included with the pill organizer holds AM and PM pill organizers, so you can easily keep track of your daily medication or vitamins.
With the push of a button, the 7-Day AM/PM Push-to-Open Pill Organizer opens easily and securely shuts, making it the perfect solution for those with limited strength and dexterity.
This pill box is a must-have for anyone on a twice-daily medication regimen.
This innovative pill box features an easy, push button opening system that securely holds pills inside. No more struggling to get into a traditional container - simply press of a finger for access!
The tray included conveniently separates AM from PM doses, helping you keep track without hassle.
Perfect for those who have limited strength or dexterity, this pill organizer is sure to simplify life and make managing chronic conditions easier than ever before.