7 Day Push to Open Pill Organizer
Product Number : PR61516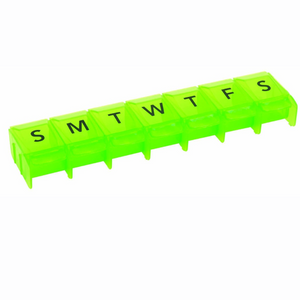 View Similar Products
Product Information
7 DAY PUSH TO OPEN PILL ORGANIZER
A Push-button 7-day pill organizer allows individual compartments to open with the press of a finger.
The unique design of the 7-Day Push-to-Open Pill Organizer features an effective opening system that keeps pills secure and opens with minimal effort.
This easy-to-operate container enables those with limited strength and dexterity to easily access their daily medication or vitamins.
Easily opens with the push of a finger and stays securely shut. Includes grips on the bottom to reduce sliding during use.
Holds up to 46 aspirin-sized pills.
The 7-Day Push-to-Open Pill Organizer is designed for effortless and secure access to pills or vitamins.
Its intuitive button activation system allows quick, single finger operation - perfect for those who have limited dexterity due to age or a physical disability.
The container also features grips on the bottom so it stays put during use without sliding around – all while safely holding up to 46 aspirin sized capsules!