Able2 Lets Get Up bed rail
Product Number : PR60177
Product Information
Able2 Lets Get Up bed rail, a sleek and supportive addition to your bedroom or living space. This bed rail is not just functional, but also aesthetically pleasing. Enhancing both style and functionality, this bed rail provides valuable support for individuals during their daily transitions in and out of bed. It's especially ideal for those on the path to recovery from injuries or illnesses, which may have left them with weakened strength. This assistance is a game-changer for elderly individuals with limited mobility, offering both elegance and practicality.
Designed to seamlessly complement most conventional beds, whether you're using it in the comfort of your home or a medical facility, the Lets Get Up bed rail is not just about support; it's about blending seamlessly into your space. The sturdy handle, complete with an ergonomically padded foam rubber grip, adds a touch of luxury to the functionality. Plus, the adjustable handle height ensures that it can be perfectly positioned to meet your specific needs.
But that's not all – the Lets Get Up goes beyond the bedroom. Effortlessly attach it to your sofa or armchair, using the convenient hand grip. This versatile feature offers an additional layer of safety and support, making it easy for you to rise from your favorite seating area.
Key Specifications:
Size: 81-97cm x 59cm x 35cm
Max User Weight: 150kg
Product Weight: 11.9kg
Shipping Weight: 13kg
choosing a selection results in a full page refresh
Able2 Lets Get Up bed rail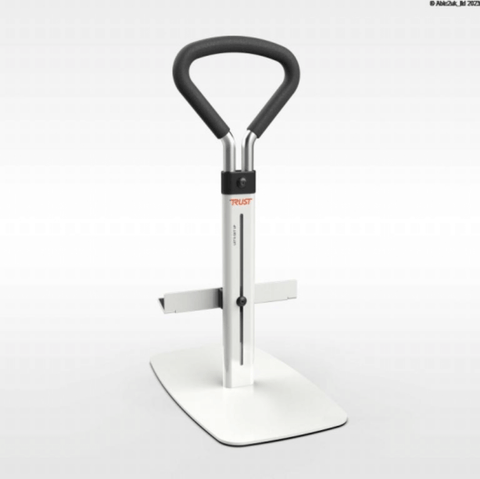 Able2 Lets Get Up bed rail
With VAT Relief

Flash Sale