Product Information
DOMUS 4 ALTERNATING PRESSURE REDISTRIBUTION SYSTEM MATTRESS UP TO 250 KG MAXIMUM USER WEIGHT

Domus 4 mattress is the perfect way to get a good night's sleep. With ventilated low-air-loss cells, it helps wick away moisture from the surface to keep the patient's skin less susceptible to injuries. The five loops located on the side of the mattress are perfect for managing your cable and avoiding tripping hazards. And the pump is easily rolled into the mattress for secure and organized storage. Plus, with visual and audible alarms, you can identify any abnormality immediately for quick and precise troubleshooting decisions.
This mattress features a continuous low-pressure mode, which provides a stable surface ideal for patients who are not fond of vibrations or alternating sensations. Extra support in the sacral area during the sitting position helps to avoid bottoming out, and the whole mattress is designed to increase pressure when the patient is in a fowler's position for added support. Whether you're looking for a little extra stability or just want a comfortable place to rest, Domus 4 air mattress may be the perfect solution.
The Domus 4 is a unique and innovative product that can be used with continuous low pressure (CLP) or alternating mode. The cell-on cell design also prevents the patient from bottoming out in case of power failure. Domus 4 offers an alternating mode, which continuously and sequentially inflates and deflates air cells (1-in-2 alternating) to avoid long term pressurization of tissue. The APEX Heel Relief Function is a simple and easy way to prevent and assist in treating heel pressure injuries by eliminating interface pressure from heels as if they are suspended in the air. This product is ideal for those who are at risk for heel pressure injuries or who are recovering from such an injury.
Domus 4 is the next generation in alternating pressure mattress systems, designed to provide relief for pressure injuries on the heel. The Heel-Relief quick connectors make it easy to adjust the pressure under the heel, while the microclimate control ensures a comfortable and healthy environment. The standard cover is made with high-performance technical material, ensuring that you stay comfortable and safe throughout your treatment.
 Features:
Hygiene boost
Total heel protection
Robust CPR knob
5 Therapy modes
Suitable for patients with a medium to high risk of pressure injuries

Simple-to-use weight setting function

CPR knob for quick deflation & maximum security

Heel relief for optimal heel protection

Quick Connector with Cap

High MVTR Stretch PU Cover
Cell-on-Cell Design
Ventilated Low-air-loss Cells

Cable Management

Storage Strap
Visual and Audible Alarms
4-way Stretch Top Cover with Low Friction & High MVTR
Micro Low Air Loss
| | | |
| --- | --- | --- |
| Pump | Dimensions | 29 x 18.5 x 12.6 cm |
| | Weight | 2.2 Kg |
| | Case Material | Flame retardant ABS |
| | Supply Voltage | AC 220 - 240V, 50Hz ; |
| | Operating Cycle | 10 mins |
| Mattress | Mattress type | 8" Replacement |
| | Dimensions | 200 x 80/85/90 x 20.3 cm |
| | Alternating | 1 - in - 2 |
| | Cell Height | 20 x 8" |
| | Weight | 6.9 kg |
| | Cover Material | Stretch PU |
| | Cell Material | Nylon / TPU |
| | Maximum Patient | 250 kg |
| | Flame Retardant | EN 597-1 & EN 597-2 |
Harrow Showroom:
78-80 Station Road, Harrow, Middx. HA1 2RX.

Telephone:
020 3974 2624

Letchworth Showroom:
Birds Hill, Letchworth, Herts, SG6 1HX

Telephone:
01462 418041

Email:
enq@mobilityworld.co.uk
Frequently Asked Question
How long does it take for the mattress to deflate when the CPR system is triggered?
It takes less than 20 seconds for the mattress to be deflated for performing CPR
How long does it take to fully inflate the mattress?
It takes less than 30 minutes to fully inflate the mattress.
The new Domus 4 replaces "Static" mode with "CLP" mode. What are the differences? What is the reason behind the change?
In Domus 4/Auto, "Static" mode & "CLP" mode are the same. Apex redefined the terms to differentiate
"Static" mode for non-digital pump (Domus 3) from "CLP" mode for digital pump (Domus 4, Domus 4).
"CLP" - Provides patient with a stable static surface with relatively low pressure (2/3 of the chosen
alternating pressure).
"Static" - Provides the patient with a static surface with the same pressure as the chosen alternating pressure.
When is Continuous Low Pressure (CLP) mode used? What are the benefits of CLP compared to Alternating Mode?
When clinically indicated, CLP can be activated for better patient immersion, envelopment and comfort.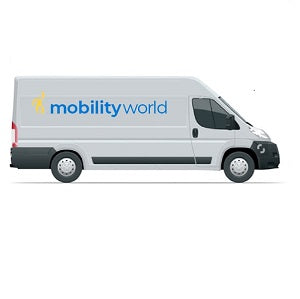 FREE SHIPPING ABOVE £99.00
Your Orders Are Normally Delivered By Courier Within 3 to 5 Days