Product Information
FLEXI-AIR NON-POWERED HYBRID MODULAR MATTRESS WITH NATURALLY ASPIRATED SYSTEM

This mattress is designed with extra support in mind and comes complete with side bolsters to help with ingress and egress. It's perfect for any patient who needs a little extra help from their mattress.
This modular design offers a variety of features that make it a great choice for anyone looking for an easy-to-clean and durable mattress. The U/V shape grooves offer support and stability, while the ergonomic weight-bearing foam helps to reduce pressure on your heels. And if you need a new cell, no problem! The individual cells can be easily replaced, making this mattress both cost-effective and long-lasting. With its slope leg section and patented tri-cut design, the Flexi-Air is sure to provide you with hours of restful sleep.
his innovative product features 3 pressure zones consisting of hybrid cells and foam, with a patented cutting design that provides superior comfort and pressure reduction. The self-regulating hybrid air valves release air to immerse the user in the foam, creating a perfect contour. The foam of the upper layer helps reduce heat and aid with patient comfort, while the high–resilience foam of the lower layer provides stable support. The aligned cells help displace air and regulate the pressure, making this product ideal for patients with a medium to high risk of pressure injuries. 
Features:
Side Bolsters with Grooves

Compatible with profiling beds

Modular Mattress Design

Heel Slope

Non-woven Cover of Heel Cells

4 Carry Handles

Easily lift up and transport

4-way Stretch Cover

Low friction and shear

Vapour permeable, water-resistant

High-flame retardant

Non-Slip PU Base

Ventilated Head Pillow Zone
Naturally Aspirated System
Automatic Air Displacement
High–resilience foam

Ventilated Drilled Foam
Dimension
200 x 80 x 20 cm
200 x 85x 20 cm
200 x 90 x 20 cm
Cell Height

6 x 13 cm, PU foam in TPU hybrid cells

Weight
12 kg
Side Bolster
20 cm side bolster
Top Cover

High MVTR* 4 Way Stretch PU

Bottom Cover
Non-Slip PU Polyester
Flame Retardant

BS 7177 crib 2, EN 597-1&-2, BS 5852

Maximum Patient Weight
200 Kg
Harrow Showroom:
78-80 Station Road, Harrow, Middx. HA1 2RX.

Telephone:
020 3974 2624

Letchworth Showroom:
Birds Hill, Letchworth, Herts, SG6 1HX

Telephone:
01462 418041

Email:
enq@mobilityworld.co.uk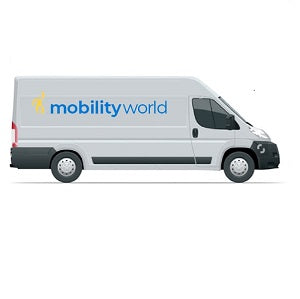 FREE SHIPPING ABOVE £99.00
Your Orders Are Normally Delivered By Courier Within 3 to 5 Days