Product Information
PRO-CARE TURN 30° BILATERAL TURNING AIR MATTRESS 3-IN-1 THERAPY SOLUTIONS

When it comes to preventing pressure injuries, the Pro-care Turn is top of its class. This device offers bilateral turning therapy up to 30° to help ease pressure and promote circulation. Plus, with its three-in-one design, the Pro-care Turn is perfect for those with medium to high risk of pressure injuries. Caregivers will appreciate how easy it is to use – simply adjust the angle of the bed and let the device do all the work for 30 or 60 minutes. And if you're looking for good ventilation and a reduction in heat and moisture build-up, look no further than the Micro Low Air Loss feature.
As someone who works in the medical field, you know how important it is to have a mattress that can be quickly deflated in order to perform CPR if necessary. With the Pro-care Turn, you can have peace of mind knowing that your mattress will be able to hold up in any situation. This mattress also features side bolsters for thorough patient protection, as well as rectangular cells that offer pressure relief and comfort. Plus, with the cable management feature, you can reduce tripping hazards for a safer healthcare environment. 
This mattress offers a single air-cell deflation function that will float with zero pressure, making it perfect for those with sensitive skin or those who are looking for a more comfortable experience. Plus, the built-in support in the sacral area ensures that you'll stay steady during transport.
 Features:
CPR Knob

Visual and Audible Alarm
Power failure alarm

Low-pressure alarm

Tech. Support alarm
Max Firm Mode for Nursing Activities
Pause Function
Customised for Optimal Performance
Effortless, 3-in-1 Therapy Solutions
Alternating, turning, continuous low pressure is available
30 degrees of turning]
Transport Mode
Cable Management
Seat Inflation
4-way Stretch Cover

Low friction and shear

Vapour permeable

High-flame retardant

Water-resistant
Heel Relief Function
Patient Protection Level Up
| | | |
| --- | --- | --- |
| Pump | Dimensions | 34.1 x 16.5 x 26.0 cm |
| | Weight | 4.5 kg / 9.9 lbs |
| | Case Material | Flame Retardent ABS |
| | Supply Voltage | AC 230V, 50Hz |
| | Operating Cycle Time | 10, 15, 20, 25 min. |
| | Dwell Time | 10, 20, 30, 60 min. |
| Mattress | Dimensions | 78.7" x 36" x 5", side bolsters 10"/ 200 x 85/90 x 13 cm, side bolsters 25 cm |
| | Cell Height | 13 cm cells with two turning cells underneath from 4th to 12th air cells |
| | Weight | 11.4 Kg / 25 lbs |
| | Cover Material | 4-way stretch PU / Polyester cover with welded seams |
| | Cell Material | TPU |
| | Maximum Patient Weight | 180 kg / 397 lbs |
| | Flame Retardant Standards | EN 597-1 & EN 597-2 |
| | CPR Knob | 1 Piece |
Harrow Showroom:
78-80 Station Road, Harrow, Middx. HA1 2RX.

Telephone:
020 3974 2624

Letchworth Showroom:
Birds Hill, Letchworth, Herts, SG6 1HX

Telephone:
01462 418041

Email:
enq@mobilityworld.co.uk
Frequently Asked Question
What are the advantages of using Pro-care Turn?
1. Saves caregiver's time.
2. Relieves the pressure off hips, sacrum, greater trochanters and heels.
3. Provides a more comfortable and stable mattress and reduces the feeling of waves during alternating cycles.
4. Reduces the risk of musculoskeletal disease and lowers the absentee rate in the facility:
No need to relocate the patient to another mattress. Hence, reducing the risk of
musculoskeletal disease to caregivers.
5. Helps reposition patients and increase their mobility.
6. Provides multiple functions for different care plans to patients.
7. Keeps air inside the mattress during power outages or transport of patients and prevents the patient from bottoming out.
Would the patient feel uncomfortable when being turned over one side on the Pro-care Turn mattress?
Pro-care Turn mattress will start alternating when the turning angle is reached to further relieve pressure exerted on the patient's body during the turning position, plus the heel relief function that helps streamline the patient's body and make the patient more comfortable. (Pro-care Turn will operate without alternating feature when the dwell time is set at 10 minutes)
What kind of patient should use Pro-care Turn?
1. Unconscious
2. Bedbound and immobilized
3. Medium to high risk of pressure injuries, especially on the scapulae and great trochanters
Where can Pro-care Turn be used?
ICU, GICU, NICU, Neurosurgery and Neurology.
Why starts at CLP mode instead of alternating mode?
After initial inflation, each single air cell will be sufficiently inflated. At this point, if the caregiver chooses the turning function, the mattress can be quickly switched for this operation. If there is no action to the pump, it will automatically enter alternating mode after 10 minutes.
How much time is needed to change from the right or left to plane degree?
The mattress takes approximately 3-5 minutes to change from the right or left to plane degree, while the actual time is depending on the patient's BMI and body contour (more time if the patient gets a higher BMI). The dwell time starts to count immediately after the selected turning degree is reached.
Can the alternating feature be turned off during turning mode?
No, Pro-care Turn is designed as a dynamic mattress with a turning function. The combination of these two functions: Alleviate pressure points at the contact surface in the turning position as well as reduce the incidence of pressure injuries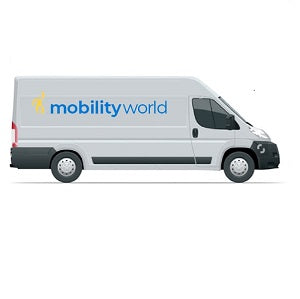 FREE SHIPPING ABOVE £99.00
Your Orders Are Normally Delivered By Courier Within 3 to 5 Days