Product Information
APEX SEDENS 500 PORTABLE PRESSURE RELIEF WHEELCHAIR CUSHION

Since this system can provide 12 hours of dynamic pressure relief on a single charge, users will be able to experience top-quality relief wherever they are. This capability makes the Sedens 500 a powerful tool for wheelchair users, allowing them to get on with their day without worrying about vulnerability to pressure sore development.
The four alternating air cells in the Sedens 500 Cushion operate with a one-in-two cell cycle, providing optimal pressure relief for the vulnerable sacral area. Cycle times are adjustable to 10, 15 or 20 minutes to ensure each user can optimise their care to their personal needs. The cushion also includes a static function, allowing the cushion to be used with minimal drain on battery life.
To ensure easy storage on any wheelchair, this system's pump is made to be as lightweight and compact as possible. This means that it will fit onto the back of the user's wheelchair without disruption to movement or comfort, making pressure relief more accessible than it's ever been before.
This cushion is supplied with a protective nylon PU cover, made with two-way stretch material for reduction of friction and shear forces. The cover is made with a non-slip base to ensure stability and includes a removable top and bottom section for easy cleaning and infection control.
 Features:
Alternating pressure relief cushion suitable for high-risk users
Powered by a compact lithium-ion battery with up to 12 hours of battery life
The pump is compact and lightweight to easily fit on most wheelchairs
Includes an integral foam insert to support the thigh area
Helps to provide freedom of movement to those who require pressure relief
Designed to be suitable for use with most types of wheelchair
Dynamic air cells alternate in a one-in-two cycle for active relief
Provides excellent support and relief for the sacral area
Supplied with a two-way stretch cover with a non-slip base
Alarms to alert of low pressure and low battery status
Adjustable cycle time length to provide optimised care for each user
Easy to use with an intuitive weight setting function
Offers a static mode for use with minimal battery power 
Dimensions 17x17x4" (43x43x10cm)
CUSHION
DIMENSION
WEIGHT
2.4 lb / 1.1 Kg
MATERIAL

Cover: 4-Way Stretch; Cell: Nylon/PU & PU Foam; Base: Nylon/PU

MAXIMUM PATIENT WEIGHT
260 lb / 120 kg
FLAME RETARDANT STANDARDS
EN597-1 & EN597-2
HCPCS CODE
E2624, A9900
PUMP
DIMENSION

9.8" x 4.7" x 2.2" / 25 x 12.2 x 5.7 cm

WEIGHT
2.2 lb / 1.0 Kg
CASE MATERIAL
Flame retardant ABS
SUPPLY VOLTAGE
12V DC, 1150 mA
OPERATING CYCLE
10/15/20 min. selectable
LI-ION BATTERY PACK
3.78V Li-ion Battery x 2
BATTERY OPERATION TIME
Approx. 12 hours
BATTERY RECHARGE TIME
Approx. 4.5 hours
Harrow Showroom:
78-80 Station Road, Harrow, Middx. HA1 2RX.

Telephone:
020 3974 2624

Letchworth Showroom:
Birds Hill, Letchworth, Herts, SG6 1HX

Telephone:
01462 418041

Email:
enq@mobilityworld.co.uk
Frequently Asked Question
Who Can Benefit from the Sedens 500 Cushion?
With a one-in-two cell alternating air cycle that provides excellent sacral region relief, this cushion is ideal for wheelchair users at high risk of pressure sores. This goes beyond the relief provided by most foam pressure relief cushions, finally allowing wheelchair users to take top-quality pressure care with them on the go.
Which Wheelchairs Can the Cushion Be Used With?
The Apex Sedens Cushion can be used with virtually any wheelchair. This includes those with fabric or canvas seat bases, as well as those with a firm or solid seat base. It can also be used with self-propelled, manual, electric and transit wheelchairs.
Can The Sedens Cushion Be Used with Recliner Chairs?
Yes, this cushion is highly versatile thanks to its non-slip base, allowing it to be used with a wide variety of chairs including rising recliners.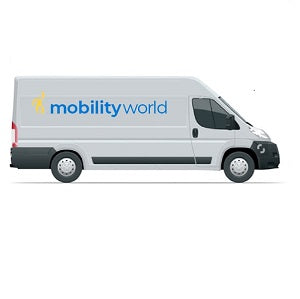 FREE SHIPPING ABOVE £99.00
Your Orders Are Normally Delivered By Courier Within 3 to 5 Days