Atlantis Safe Discs/Strips
Product Number : PR61668/S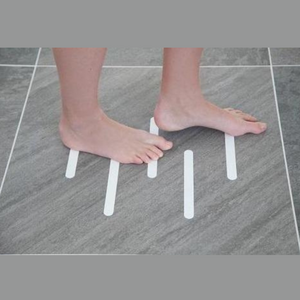 View Similar Products
Product Information
ATLANTIS SAFE DISCS/STRIPS
Looking for a way to help prevent slipping in the bath or shower? Check out our Able2 safetly treads!

These self-adhesive strips are easy to apply and can help provide some much-needed traction to help avoid costly falls. Available in strips or discs (20 x 200mm each), our Able2safetly treads are a great way to help create a safer environment in your bathroom.

Please note: for best results, make sure to clean the surface you'll be applying the adhesive to with an alcohol-based cleaner.
This will ensure optimal bonding between the adhesive and the surface. Using cream cleaners may leave a powder residue that could contaminate the adhesive and cause it to fail.
Accidents in the bathroom can be costly and may even have serious consequences. Make sure you never slip with Able2 safety treads!
These self- adhesive strips or discs provide extra traction to help avoid those nasty falls, while being easy to apply (20x200mm each).
For best results make sure that surfaces are cleaned using an alcohol based cleaner for optimal bonding - cream cleaners could contaminate the adhesive and cause it to fail. Prevent slips today with our safe Atlantistread products!