Bathmaster Deltis Bathlift Complete
Product Number : SN091324144
Product Information
Overcome challenges of getting in and out of the bath with ease using the Bathmaster Deltis bath lift. This top-quality, lightweight reclining bath lift is simple to assemble and effortlessly separates into two parts for easier lifting and carrying. No technical knowledge or servicing needed; just enjoy its modern, corrosion-free plastic construction designed for long-lasting usage.

Easily transportable and storage-friendly, the Bathmaster Deltis weighs just 6.8kg (15lbs) and offers secure holding points. Its compact frame fits almost all bathtubs, ensuring stability and reliability. The bath lift features large side flaps and optional swivel seats for efficient transfer in and out of the bath, catering to users requiring additional assistance.
Equipped with advanced lithium-ion battery technology (no memory effect, low self-discharge), the Bathmaster Deltis ensures improved performance and longer battery life. The latest software enables gentle charging, extending battery longevity. The easy-to-use, floating hand controller guarantees swift recovery if dropped into water.
The bespoke, service-free motor is fully waterproof, designed for long-term durability without any risk of damage or failure. Additionally, the hand controller connects directly to the motor, ensuring no leads get damaged during transportation.
With a supportive, reclining backrest offering maximum relaxation, the Bathmaster Deltis provides a comfortable 10 to 40-degree recline angle. Feel reassured with its 3-year guarantee against defects in materials or workmanship.
Technical Specifications:
- Seat width excluding side flaps: 375mm (14.75")
- Seat depth: 500mm (19.75")
- Seat width including side flaps: 695mm (27.25")
- Backrest height: 680mm (26.75")
- Backrest width: 350mm (13.75")
- Minimum seat height: 69mm (2.75")
- Maximum seat height: 455mm (18")
- Backrest angle adjustment: 10° - 40°
- Footprint: 560mm x 295mm (22" x 11.5")
- Seat weight: 6.8 kgs (15 lbs)
- Backrest weight: 3.7 kgs (8.25 lbs)
- Maximum user weight: 140 kgs (22 stone)
- 3-Year Manufacturers Guarantee
Upgrade to the Bathmaster Deltis for an easy-to-use, durable, and comfortable bath lift solution. This compact, all-plastic frame reclining bath lift offers optimum safety, efficient side transfers, and no electrical or plumbing installation. With a 3-year guarantee, experience peace of mind knowing your bath lift is always in full working order.
choosing a selection results in a full page refresh
Bathmaster Deltis Bathlift Complete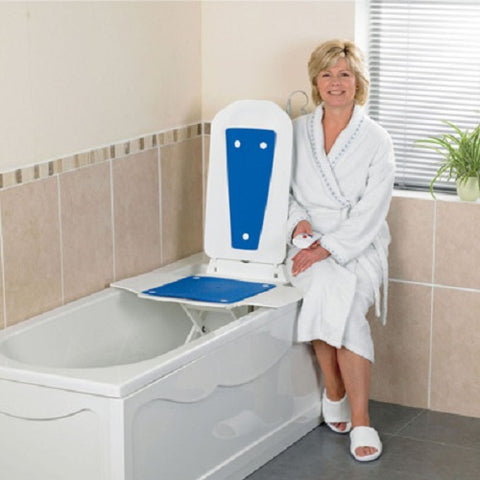 Bathmaster Deltis Bathlift Complete
With VAT Relief

Flash Sale