Classic Powerlifter Mini Hoist 135
Product Number :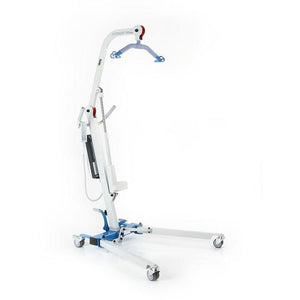 View Similar Products
Product Information
Description
Classic Powerflifter Mini Hoist 135
The Classic Powerlifter Mini Hoist 135 is a transfer hoist for handling and transferring users, suitable for users up to 135kg. Alerta Powerlifter hoists are designed to be used in hospital, nursing and care home environments.
They provide security, functionality and outstanding reliability; easy to operate, easy to move and incorporate anti-entrapment techniques. Classic Powerlifter hoists also give users a very restful and calming lift experience with a thermoplastic rubber coated, anti-swing spreader bar.
The wide range of features make the Alerta Powerlifter hoists a highly versatile and cost effective solution which has been manufactured to comply with the most stringent quality and in-use guidelines.
Key Features & Benefits

Cost-effective hoist for home care, hospital and care home environments
Provides a smooth and calm transfer experience for patients
Easy-to-use with tool-free assembly and setup
Thermoplastic rubber-coated, anti-swing spreader bar for smooth transfers
Powered by the reliable Linak jumbo control system 
Emergency stop button to provide peace of mind to carers
Spreader bar features 360° rotation for versatility
Audible and visual low battery alarms to alert carers
Rear castors include single brake to ensure stability
Disassembles into two parts for ease of storage and transport
Ergonomic handle allows for easy adjustments
Leg spread device located within the chassis to reduce footprint
Complies with all quality and use standards for hoists
Anti-entrapment measure to enhance safety
SWL: 135kg
Easy Assembly and Operation
The Mini 135 Hoist is designed to be as user-friendly as possible, as it can be assembled without the use of tools, and disassembles into two parts for ease of transport and storage. Ergonomic handles make movement simple for the carer, allowing the patient to be positioned correctly in seconds for the most efficient and safe transfers possible.
Anti-Swing Bar for Smooth Transfers
It's important to ensure patients are as calm and comfortable as possible during transfers, which is why this hoist includes a thermoplastic rubber-coated, anti-swing spreader bar. Providing excellent stability throughout movement, this bar has the ability to rotate a full 360°, allowing easy positioning and excellent versatility during patient transfers.
Reliable Linak Jumbo Control System
The Linak control system of this hoist helps to boost patient safety, as it includes features like an emergency stop button and an audible and visible low battery alarm. This electrical system is the gold standard for hoist controls, allowing carers to easily adjust settings to suit the particular patient being transferred.
Compact Base
To save as much space as possible, the Mini 135's leg spreading device is located within the chassis, reducing the overall footprint. This makes the hoist easier to manoeuvre into smaller spaces, allowing for easy transfers in a range of environments.
Stable Polyamide Wheels
For maximum ease of movement, the hoist sits on 100mm double wheels with polyamide support, ensuring smooth movements. It also incorporates a single brake on the rear wheels, allowing excellent stability during transfers. 
Technical Specifications
Safe working load: 135kg
Lift height: 330 - 1350mm
Base dimensions (WxL): 530 x 1130mm
Features & Benefits
choosing a selection results in a full page refresh
Classic Powerlifter Mini Hoist 135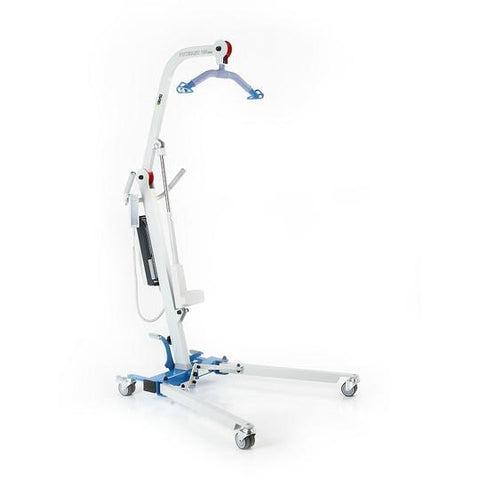 Classic Powerlifter Mini Hoist 135
With VAT Relief

Flash Sale