Deluxe Hair Washing Tray
Product Number : SN091078203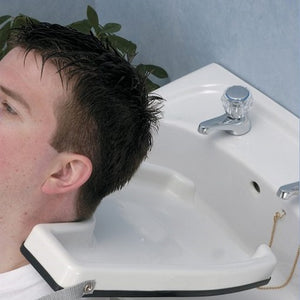 View Similar Products
Product Information
The Deluxe Hair Washing Tray is a user-friendly solution for easy upright shampooing, perfect for individuals with limited mobility and caregivers alike. This easy-to-use hair-washing tray provides superior comfort by featuring a unique flexible rubber edge that surrounds the neck opening, preventing slips during use. Its compact and lightweight design eliminates awkward bending and reduces back strain for carers.
A key highlight of this hair washing aid is its raised edge, which prevents water spillage, and the contoured sides that provide excellent neck support. A 889mm (35") strap wraps around the user's forearm, ensuring stability during use. Dimensions of the tray are 330x445mm (13x17 1/2"), and it weighs just 550g.
Experience safe, comfortable, and hassle-free hair washing with the Deluxe Hair Washing Tray. This disability aid is perfect for those who require assistance during shower routines and makes caregiving tasks a breeze. Enjoy a more relaxed and stress-free shower experience with our fantastic hair washing tool.