Product Information
ASTROLITE SPLITABLE BOOT LIGHTWEIGHT MOBILITY SCOOTER
The AstroLite is a brand-new split-boot scooter that is astronomically light and has a tonne of fantastic features. We firmly feel that this is one of the best-split boot scooters ever made, with all-around front and rear suspension, an upgradeable lithium-ion battery pack, and the heaviest component weighing only 9.9 kg.  This astronomically light scooter is perfect for traveling because it is easy to lift, handle, and put in a car boot thanks to its front impact bar and accessible rear handle. The AstroLite offers a truly fantastic ride because of its slimline form, all-around suspension, and great turning circle.
Features:
Super lightweight with the heaviest part weighing only 9.9 kg
All-round front and rear suspension for a supreme and comfortable ride.
Airline friendly lithium-ion battery pack (10.3ah)

 

or

 

can be upgraded to a 17.2ah battery for added range.
User-friendly split mechanism – super easy to split apart and put back together.
Onboard and offboard charging sockets with batteries as standard.
Fantastic legroom with soft and comfortable PU footmats for additional comfort.
Generous weight capacity of 120 kg (18.9 stone).
Fantastic appearance with metallic paint, smooth aerodynamic shroud, and suspension covers.
360º swivel and removable seat helps users dismount from the scooter.
Flip-up and adjustable/removable armrests help users transfer on/off the scooter.
Front impact bar helps protect the shroud during impacts and also acts as a carry handle enabling the scooter to be easily lifted in and out of car boots.
Comfortable padded seat and backrest.
Exceptionally small turning circle 125 cm (49" Inches).
Soft and comfortable PU footmats provide additional comfort underfoot.
Solid puncture proof PU tyres.
Rear anti-tip wheels.
Automatic electromagnetic brake system.
Analogue display.
Onboard and offboard charging sockets with batteries included as standard.
User-friendly controls.
Stylish silver wheel hubs.
Angle adjustable tiller.
Front impact bar / carry handle.
Available in 2 striking new colours: metallic black

 

or

 

metallic blue.
It comes complete with the full Mobility World support service.
FREE 1 MONTH INSURANCE WITH ALL OUR MOBILITY SCOOTERS. 

FREE 12 MONTHS ON-SITE WARRANTY WITHIN OUR HOME ASSESSMENT AREA.

FREE ENGINEER DELIVERY, DEMONSTRATION AND SET UP (WORTH £199.00) WITHIN OUR HOME ASSESSMENT AREA. 

PART EXCHANGE WELCOME
VISIT US TODAY TO TEST DRIVE THIS PORTABLE FOLDING TRAVEL MOBILITY SCOOTER!
COLOUR AVAILABLES:
Metallic Blue
Metallic Black
BATTERY OPTIONS:
10.3Ah Li-lon (MS027)
17.2Ah Li-lon (MS028)
Heaviest Part
Metric: 9.9 kgs
Imperial: 21.8 lbs
Maximum User Weight
Metric: 120 kg
Imperial: 18.9 Stone
Maximum Speed
Metric: 6.4 kph
Imperial: 4 mph
Maximum Range (10.3Ah Battery)
Metric: 11 Km
Imperial: 6.8 miles
Maximum Range (17.2Ah Battery)
Metric:18.4 Km
Imperial: 11.4 miles
Product Weight Without Batteries
Metric: 27.6 kg
Imperial: 60.9 lb
Product Weight With Battery (MS027: 10.3Ah Li-lon)
Metric: 29.6 kg
Imperial: 65.3 lb
Product Weight With Battery (MS028 17.2Ah Li-lon)
Metric: 30.2 kg
Imperial: 66.7 lb
Battery Supplied
MS027: 10.3Ah Li-lon
MS028: 17.2Ah Li-lon
Battery Weight (MS027: 10.3Ah Li-lon)
Metric: 2 kg
Imperial: 4.4 Ib
Battery Weight (MS028 17.2Ah Li-lon)
Metric: 2.6 kg
Imperial: 5.8 Ib
Product Length
Metric: 109 cm
Imperial: 42.9" Inches
Product Width
Metric: 49.5 cm
Imperial: 19.5" Inches
Product Height
Metric: 90 cm
Imperial: 35.4" Inches
Front Section
Metric: 89 x 42 x 37.5 cm
Imperial: 35" x 16.5" x 14.8" Inches
Rear Section
Metric: 49.5 x 31 x 26 cm
Imperial: 19.5" x 12.2" x 10.4" Inches
Front Wheels
Metric: 18.5x5 cm
Imperial: 7.3"x2" Inches
Rear Wheels
Metric: 18.5x5 cm
Imperial: 7.1"x2" Inches
Wheel Type
Solid, PU
Climbing Angle (Max)
6º Degrees
Ground Clearance
Metric: 5 cm
Imperial: 2" Inches
Minimum Turning Radius
Metric: 125 cm
Imperial: 49" Inches
Harrow Showroom:
78-80 Station Road, Harrow, Middx. HA1 2RX.

Telephone:
020 3974 2624

Letchworth Showroom:
Birds Hill, Letchworth, Herts, SG6 1HX

Telephone:
01462 418041

Email:
enq@mobilityworld.co.uk
Frequently Asked Question
What happens if my mobility scooter develops a fault?
If there is an issue with your scooter, please contact us and will arrange an engineer appointment for you.
How do I get hold of an extra battery / charger / key?
Please contact us and we will be able to help you.
What is the maximum carry capacity of AstroLite Splitable Boot Lightweight Mobility Scooter?
The Maximum carrying capacity is 120 Kg (18.9 Stone).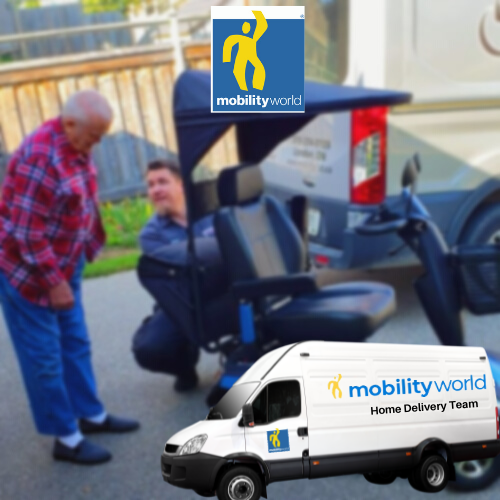 FREE ENGINEER DELIVERY, DEMONSTRATION, SET UP AND 1 MONTH INSURANCE
FREE ENGINEER DELIVERY, DEMONSTRATION AND SET UP (WORTH £199.00) WITHIN OUR HOME ASSESSMENT AREA. 1 MONTH FREE INSURANCE WITH ALL OUR MOBILITY SCOOTERS