EZ Fold N Go Rollator - Replacement Seat Pads
Product Number : PR30183/SEATPADS
Product Information
EZ FOLD N GO ROLLATOR - REPLACEMENT SEAT PADS
The EZ Fold N Go Rollator is the worlds most portable rollator it folds 3 x smaller than the average rollator!

It quickly and easily folds up for storage in small places in your home getting on the bus, in your car, on a train or plane.

It has a convenient seat which is perfect for resting.

The handles are height adjustable and adjust to fit users height of 4ft 10 inch to 6ft 8 inch.

The rollator will support a weight of 113kg.

The 6-inch wheels allow trouble-free maneuvering over most surfaces.

When collapsed the rollator measures just 91cm x 33cm x 25cm.

There are three stylish colours to choose from
Black Walnut
Cobalt Blue
Regal Rose
The EZ Fold N Go Rollator is the perfect solution for anyone who needs a rollator to get around-- and with its easy-fold size, it will fit into any space.
This handy mobility device features adjustable handles that accommodate users between 4ft 10in and 6ft 8in in height; plus, the weight capacity of 113kg ensures everyone can use this tool safely.
Plus, you won't have trouble maneuvering as there are six inch wheels installed on every model! And if style matters too you're also spoiled here - choose from three colors: black walnut cobalt blue or regal rose.
With comfortable seat pads included replacing them when needed is simply a breeze!
choosing a selection results in a full page refresh
EZ Fold N Go Rollator - Replacement Seat Pads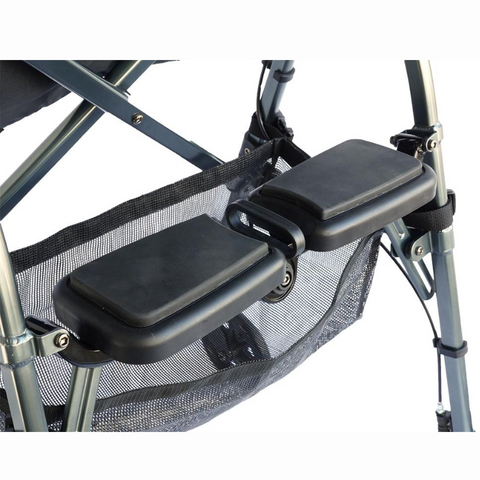 EZ Fold N Go Rollator - Replacement Seat Pads
With VAT Relief

Flash Sale