Flexyfoot Cork Handle Folding Walking Stick - Orange
Product Number : FSC-302B-ORANGE
Product Information
FLEXYFOOT CORK HANDLE FOLDING WALKING STICK - ORANGE
This Flexyfoot  Cork Handle Folding Walking Stick - Orange is perfect for those with restricted mobility, as it offers a number of features that make getting around a breeze.
The orange color is perfect for standing out in a crowd, and the ergonomic design of the handle ensures that you'll always have a comfortable grip.
The specially designed foot has a flexible tip that helps absorb impact and provides greater stability on uneven surfaces. Whether you're navigating city sidewalks or taking a nature hike, the Flexyfoot will give you the confidence you need to get where you're going. 
 This walking stick is fitted with a soft grip handle made from a soft tactile material that rests comfortably in the palm of the hand.
Traditional derby styling provides the user with many grip options to best suit their requirements. Plus, the Flexyfoot is perfect for those who are looking for a little extra support while walking. 
This walking stick is equipped with a revolutionary, uniquely designed Flexyfoot ferrule. The ferrule has flexible bellows that absorb shock when contact is made with a surface, dramatically minimising discomfort in the arm and upper body. With this walking stick, you'll be able to get around without feeling any pain. 
This innovative walking stick is manufactured using lightweight, premium-grade aluminium, and features hardwearing foot treads that offer up to 50% more grip than traditional ferrules.
Flexyfoot walking sticks are the perfect accessory for those on the go.
The height-adjustable and folding design makes these sticks incredibly easy to transport, so you'll never have to worry about leaving your stick behind when you're out and about.
In addition, the provided Flexyfoot bag ensures that your stick stays clean and in good condition when not in use.
Instructions and Safety Precautions:
Check the condition of the foot and keep checking the wear markers.

When you reach the wear markers, replace the foot.

If the fit of the collar becomes loose or can easily be removed, stop using the walking stick immediately.

The level of grip will vary depending on such things as the weather and internal floor conditions. In wet conditions, as well as snow and ice, the grip will naturally be reduced.

All Flexyfoot walking sticks use a 19mm ferrule.
Available in four colours: Red, Blue, Black, Orange
Handle types: Also available in derby and cork handles
| | |
| --- | --- |
| Minimum handle height | 837mm |
| Maximum handle weight | 937mm |
| Maximum user weight | 130kg |
| Product weight | 450g |
choosing a selection results in a full page refresh
Flexyfoot Cork Handle Folding Walking Stick - Orange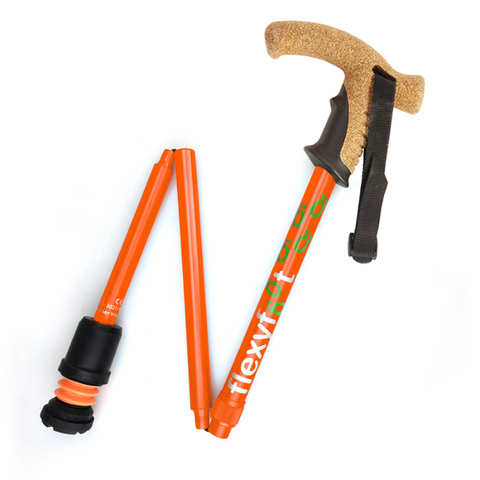 Flexyfoot Cork Handle Folding Walking Stick - Orange
With VAT Relief

Flash Sale