Flexyfoot Oval Handle Folding Walking Stick - Red
Product Number : FS-302B-RED
Product Information
Flexyfoot Oval Handle Folding Walking Stick - Red: The Ideal Mobility Aid for Extra Support and Comfort
This red folding walking stick is perfect for those who need assistance when walking, providing confidence and independence while out and about. The oval-shaped handle with soft grip on this mobility aid helps distribute the impact evenly as it hits the ground, reducing joint stress and enhancing user comfort. The lightweight walking stick features a folding design, making it easy to carry when not in use.
Flexyfoot - Revolutionary Design for a Comfortable Walking Experience
The Flexyfoot ferrule boasts a flexible bellow design that absorbs shock upon contact with surfaces, minimising discomfort in the arm and upper body. This makes it an ideal walking aid for those with mobility issues. With its sleek design and user-friendly functionality, Flexyfoot is the must-have accessory for anyone seeking to improve their quality of life.
Maximum Grip and Traction for Secure Walking
The durable foot tread on this folding walking stick offers up to 50% more grip than a traditional ferrule, maintaining full contact with the ground at all times for maximum traction. It's an ideal solution for those wanting to avoid slips and falls and ensure safe walking on various surfaces. With its incredible durability, this walking aid is built to withstand years of wear and tear.
Height-Adjustable, Premium-Grade Aluminium Walking Stick for Easy Transportation
The Flexyfoot height-adjustable walking stick is crafted from premium-grade aluminium and features sturdy, tooled joints for enhanced strength and stability. These joints enable the stick to fold effortlessly into a compact size, perfect for carrying in the included bag.
Usage Instructions and Safety Precautions:
1. Regularly inspect the condition of the walking stick foot and watch for wear markers.
2. Replace the foot when it reaches the wear indicators.
3. If the collar's fit becomes loose or easily removed, discontinue use immediately.
4. Grip levels may vary based on weather and indoor floor conditions. Expect reduced grip in wet conditions, snow, and ice.
5. All Flexyfoot walking sticks use a 19mm ferrule.
The Flexyfoot walking stick offers a reliable and secure walking experience, with an ergonomic handle ensuring user comfort and a dependable foot for confidence and steadiness. Whether you need extra help getting around or added security when walking, the Flexyfoot is an ideal mobility aid accessory.
Available in four colours: Red, Blue, Black, Orange
Handle types: Also available in derby and cork handles
| | |
| --- | --- |
| Minimum handle height | 837mm |
| Maximum handle weight | 937mm |
| Maximum user weight | 130kg |
| Product weight | 450g |
choosing a selection results in a full page refresh
Flexyfoot Oval Handle Folding Walking Stick - Red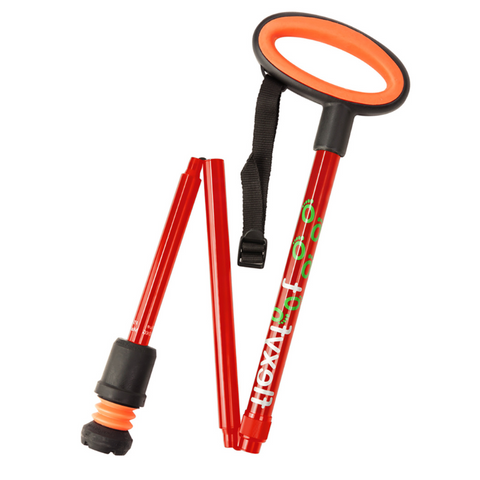 Flexyfoot Oval Handle Folding Walking Stick - Red
With VAT Relief

Flash Sale