Flexyfoot Oval Handle Walking Stick - Orange
Product Number : FS-301-ORANGE
Product Information
FLEXYFOOT OVAL HANDLE WALKING STICK - ORANGE The Flexyfoot Oval Handle Walking Stick is an ideal solution for those seeking assistance with walking. This practical and fashionable stick, available in a striking orange colour, offers numerous benefits, making it perfect for users. Some of its features include a contoured handle for a comfortable grip, an easy-to-use push button for height adjustment, and a unique Flexyfoot ferrule that absorbs impact and decreases stress on joints. 
The innovative Flexyfoot walking aid provides enhanced comfort and support with its oval-shaped handle and soft grip, evenly distributing each step's impact to reduce joint stress. Its flexible shaft adapts to varied terrains, making it suitable for uneven ground and slippery conditions. The cutting-edge ferrule, equipped with flexible bellows, absorbs shock upon surface contact, minimising upper body discomfort. With improved stability and grip, the Flexyfoot walking stick is an excellent choice for hassle-free mobility.
This revolutionary walking aid features a durable foot tread that offers up to 50% more grip than traditional walking sticks, ensuring full ground contact for maximum traction. The telescopic design allows users to adjust the walking stick's height to suit their needs. 
Instructions and Safety Precautions: 
- Regularly check the foot's condition and examine wear indicators.
- Replace the foot if wear markers are reached.
- If the collar's fit becomes loose or removable, stop using the walking aid immediately.
- Grip levels may vary depending on weather and floor conditions, with grip naturally reduced in wet, snow, and icy conditions.
- All Flexyfoot walking sticks use a 19mm ferrule.
Experience the Flexyfoot walking stick's convenience, comfort, and safety, designed for a secure and stable grip on any terrain. With adjustable height and ergonomic handle, the Flexyfoot walking aid is an excellent choice for individuals seeking a dependable support system.
Available in four colours: Red, Blue, Black, Orange
Handle types: Also available in derby and cork handles
| | |
| --- | --- |
| Minimum handle height | 837mm |
| Maximum handle weight | 937mm |
| Maximum user weight | 130kg |
| Product weight | 450g |
choosing a selection results in a full page refresh
Flexyfoot Oval Handle Walking Stick - Orange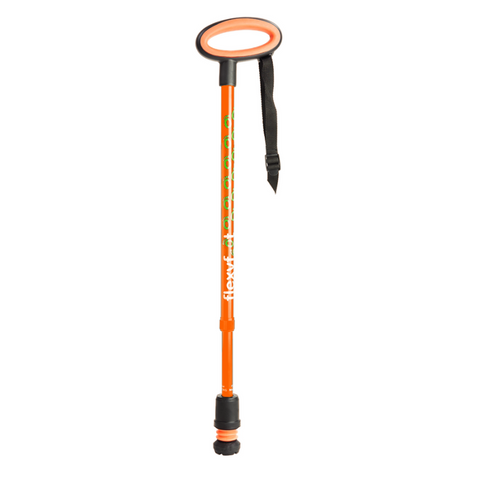 Flexyfoot Oval Handle Walking Stick - Orange
With VAT Relief

Flash Sale