Flexyfoot Walking Stick Ferrule - Black - Size 16mm
Product Number : FF16B-03-165B
Product Information
FLEXYFOOT WALKING STICK FERRULE - BLACK - SIZE 16MM
Flexyfoot Walking Stick Ferrule - Black - Size 16mm is the ideal choice. With its unique design, Flexyfoot ferrules offer up to 50% more grip and traction than traditional ferrules, making it the perfect choice for those who want to avoid slipping or falling on uneven surfaces.
Additionally, Flexyfoot ferrules are superb at absorbing shock and impact, making them an ideal choice for those who suffer from pain and discomfort in the arms and upper joints.
With their exceptional safety and comfort levels, Flexyfoot ferrules are the perfect choice for anyone who wants to stay safe and comfortable while out and about.
This innovative prosthesis features a flexible foot that remains wholly in contact with the ground, providing increased traction and safety. 
This innovative product helps to prevent trips and falls, making it ideal for those who use walking sticks, crutches, or walkers. With its unique design, Flexyfoot gives you the added stability and traction you need to stay safe when out and about.
 Instructions and Safety Precautions
Check the condition of the foot and keep checking the wear markers.

When you reach the wear markers, replace the foot.

If the fit of the ferrule becomes loose or can easily be removed, stop using the walking stick immediately.

The level of grip will vary depending on such things as the weather and internal floor conditions. In wet conditions, as well as snow and ice, the grip will naturally be reduced.
Available in black or grey
Available in sizes 16mm, 19mm, 22mm and 25mm
For a guide on how to measure for a ferrule, visit www.flexyfoot.com
Maximum user weight: 130kg
choosing a selection results in a full page refresh
Flexyfoot Walking Stick Ferrule - Black - Size 16mm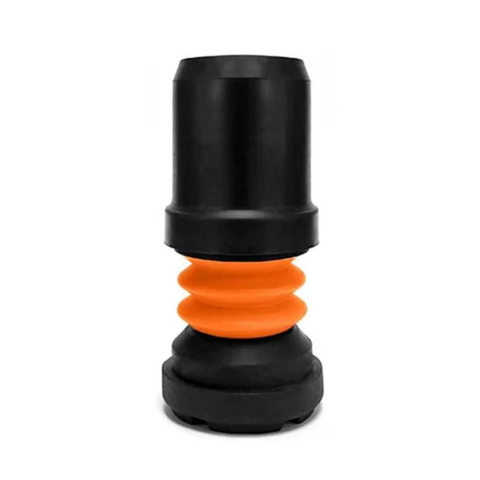 Flexyfoot Walking Stick Ferrule - Black - Size 16mm
With VAT Relief

Flash Sale