Handsteady Drinking Aid
Product Number : PR65680
Product Information
HANDSTEADY DRINKING AID
The handle of the HANDSTEADY drinking aid rotates so that the cup self-levels using gravity.
Its easily by pivoting with your mouth, thumb, or another hand; removes the need to twist your wrist, raise your elbow or lean your head back as far; and keeps steady despite tremors (such as with the handle upside down or at 90 degrees where tremor can be less).
It's lightweight, looks normal, shatterproof and has a large handle for 4 fingers.
Dishwasher proof, autoclave safe and microwave safe.
Includes discreet fitted lid with a drink and straw hole.
Introducing the revolutionary new HANDSTEADY Drinking Aid! It's perfect for those with shaky hands or who have difficulty with fine motor skills. It can make drinking easier than ever before. The handle of the drinking aid pivots, allowing the cup to stay level using gravity and lowering the need to twist your wrist or lean back in order to take a sip. And because it's lightweight, shatterproof and made from microwavable materials, this is an ideal accessory for hot coffee or tea on-the-go.

What sets the HANDSTEADY Drinking Aid apart is its large handle that fits four fingers, making it easier than ever to get a good grip on your drink of choice. It also comes fitted with a discreet lid with both drink and straw holes, so you don't have to worry about spills no matter how much your hand shakes. Plus, it's autoclave safe, which means you can sanitize it whenever you need without fear of damage!

Make life easier while still looking stylish with HANDSTEADY! Pick up yours today and start sipping like never before!
choosing a selection results in a full page refresh
Handsteady Drinking Aid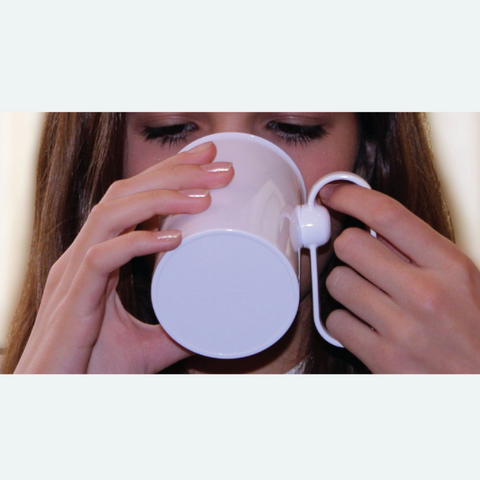 With VAT Relief

Flash Sale