Harley Back Soother Cushion
Product Number : SP44085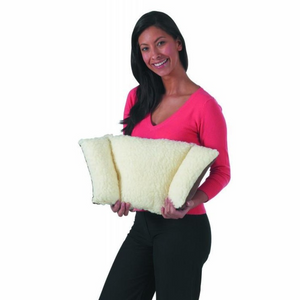 View Similar Products
Product Information
HARLEY BACK SOOTHER CUSHION
Looking for extra support when sitting down? Meet Able2, the innovative and super versatile seat support that literally wraps round and supports your back.

Made with cosy fibre filling and a faux sheepskin or tartan cover as standard, Able2 is ideal for use in the home or office, and also provides fantastic support when used in a wheelchair or on a scooter.

Plus, at just 51x27cm (20x10½"), it's perfectly portable too!
Introductory sentence: Looking to take the pressure off your back?

Whether you're at home, in the office, or out and about, HARLEY BACK SOOTHER CUSHION is here to lend a helping hand. This innovative seat support cushion is designed with extra support in mind and the plush comfort that you deserve.

It's made with a cozy fibre filling and comes with either a faux sheepskin or tartan cover, providing both style and exceptional support for hours of seated comfort. It's even small enough to be carried wherever you go -- just 51x27cm (20x10½").

The ideal companion for office chairs, wheelchairs or scooters; this back soother cushion will provide relief from fatigue and improve posture. Experience superior longevity with superior care — spot clean only! — so your own HARLEY BACK SOOTHER CUSHION can always offer maximum support when it matters most. Treat yourself to better seating today!