Harley Correcting Shoulder Brace
Product Number : SP24108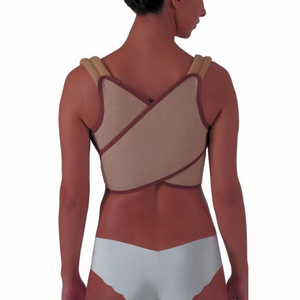 View Similar Products
Product Information
HARLEY CORRECTING SHOULDER BRACE
We all know how important it is to have good posture. We've been told since we were young to sit up straight, but sometimes it's just not that easy.

Especially if you work at a computer all day or find yourself in the same position for long periods of time. That's where the Harley Correcting Shoulder Support comes in.

This great product is designed to help retrain and correct your posture, adding more support and protecting your body from further injury.

It's easy to use, with a front fastening, and it's great for correcting round shoulders.

So don't wait any longer, get the posture support you need with the Harley Correcting Shoulder Support.
Welcome relief for the weary body. For those who have to sit for long periods, the Harley Comfort Plus Cushion offers absolute comfort and support like no other. Utilizing high-grade foam and a perfectly cut-out design, this cushion provides maximum comfort no matter what you are doing—whether it's a leisurely ride on your scooter or your daily commute in a wheelchair.

The cushion doesn't just make users feel comfortable, but also warm. The warmth created by the cushion relaxes your body and takes you away from any sense of fatigue or stiffness that comes with sitting for long periods of time in one position. With three cleverly designed cut-outs to choose from—Standard, Coccyx, and Combi—your tailbone area is targeted with additional support while your sitting bones receive direct relief—all while supporting your lower back comfortably and naturally.

And as if that wasn't enough, this luxurious cushion comes with a durable zip leatherette covering as standard which is easy to keep clean with some warm water and dry fabric clothings. Its exterior design makes it look smart in any environment; so whether you're at home taking a much-needed break or running errands outdoors, Harley Comfort Plus Cushion will have you seated in style.