Harley Gentle Forme Support Belt
Product Number : SP24031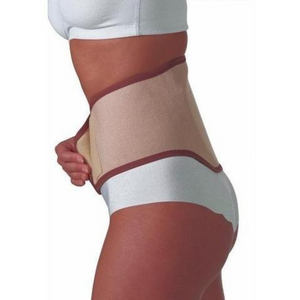 View Similar Products
Product Information
HARLEY GENTLE FORME SUPPORT BELT
If you're looking for a support belt that's gentle, flexible, and effective, the Harley Gentle Forme Support Belt is perfect for you.

It provides compressive support while stabilizing the hips, pelvis, and spine, and features a removable protection pad. The slimline design is discreet and helps with lumbago and sports injuries.

The belt is 20cm at the back and reduces to 13cm at the front.

If this product is showing as out of stock (red dot), please note that as we manufacture this product on site it can normally be manufactured and available within 2/3 days of receiving your order.
Introducing the Harley Gentle Forme Support Belt - your ideal companion for those looking for comfortable, supportive compression that offers superior stabilization of the hips, spine, and pelvis. The slimline design also makes it discreet and perfect for any situation!

With this revolutionary belt you can keep injuries at bay and help minimize lumbago pain or other sports related issues. It is not only flexible enough to move with you but keeps your body steady and secure during even the most intense activities. With a removable protection pad and a 20cm back length which reduces to 13cm at the front, you'll have excellent support exactly where you need it!

Whether you are out on the slopes or just going about your daily activities, this support belt is here to help. Get your Harley Gentle Forme Support Belt now and get ready to be more active while keeping yourself safe!