Harley Original Pillow
Product Number : SP14056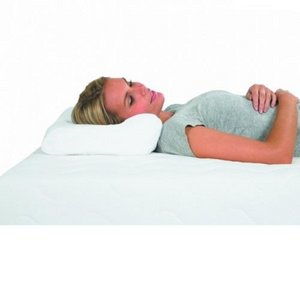 View Similar Products
Product Information
HARLEY ORIGINAL PILLOW
A top-selling orthopaedic foam pillow that is contoured to cradle the user s neck and accommodate the shoulders; making this the perfect sleep accessory.
Used and recommended by clinicians and healthcare professionals for more than 15 years, the cold cast polyurethane foam offers added support; ideal for those who prefer an extra-firm pillow.
The shape of the pillow means that the spine is held in a neutral alignment; alleviating tension and helping to support a great night s sleep.
Thanks to its design, it will suit both side sleepers and back sleepers.
These orthopaedic pillows are available in two sizes and two depths:

Standard:  Ideal for the average frame, measures 45x32x13cm
Plus:  Ergonomically identical to the Standard, just larger on the bed, measures 51x36x13cm
Lo-line:  Ideal for a smaller framed adult or child, measures 45x32x10cm
Lo-line Plus: Ergonomically identical to the Lo-line, just larger on the bed, measures 51x36x10cm
Experience the nourishing comfort of a Harley Original Pillow! This top-selling orthopaedic foam pillow is manufactured to effectively cradle your neck and support your shoulders, so you can get the sleep you desperately need. Its specially crafted contours are contrived to provide the perfect soothe that all side and back sleepers require, while the cold cast polyurethane foam ensures maximum cushioning and superior neck support throughout the night.

For more than 15 years, healthcare professionals have recommended this functional product as an ideal accessory for those seeking an extra firm pillow; and strategic design fortifies its ability to preserve spine alignment in a neutral body position. The Harley's superior quality also offers you beneficial spinal support when it comes to users of all shapes and sizes! Take advantage of its two sizes: Standard: Ideal for average frames, measures 45x32x13cm or Splurge on both sizes for the ultimate sleeping bliss!

Love life with renewed vigor after relaxing on a Harley original pillow! Whether you're trying to get some shut-eye or just hanging out in bed with Netflix, this ergonomically designed product has all your sleep needs covered. With its supreme neck support, comprehensive spinal alignment feature, variety of sizes and plush feel, what are you waiting for? Get your hands on a Harley Original Pillow now; because nothing else compares!