Harley Power Plus Support Belt
Product Number : SP24032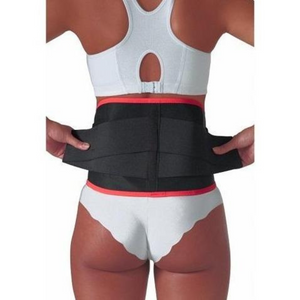 View Similar Products
Product Information
HARLEY POWER PLUS SUPPORT BELT
The Able2 Harley Power Plus Support Belt is a heavy-duty support belt that provides compressive support and stability to the mid and lower back.

It is ideal for those who have heavy jobs or who work with strenuous, manual-handling tasks.

The belt comes with a removable protection pad and additional side pulls for even more support.

It is 21cm at the back, reducing to 15cm at the front. If this product is showing as out of stock (red dot), please note that as we manufacture this product on site, it can normally be manufactured and available within 2/3 days of receiving your order.
Are you the proud owner of a heavy job? Or do you work with intense manual tasks that leave your lower and middle back aching? If so, then the Able2 HARLEY POWER PLUS SUPPORT BELT is just what you need!

This robust support belt provides optimal stability and protective compressive aid to your mid and lower back – helping to prevent strain and fatigue. It delivers 21cm coverage at the rear, reducing progressively to 15cm at the front for maximum comfort and benefit. For added support, it also comes complete with a removable protection pad as well as additional side pulls.

What's more, this belt was specifically manufactured in-house with customers like you in mind. So even if it's currently out of stock, rest assured that it can typically be produced and ready for delivery within two to three days after placing an order.

Say goodbye to lower and middle back pain once and for all – get the Able2 HARLEY POWER PLUS SUPPORT BELT now!