Product Information
IGNITE GRANDE MOBILITY SCOOTER
Extra Muscle, Extra Stability
The Ignite Grande has a bigger weight capacity, heavy-duty suspension, and a broader heated seat as it is a sturdy mobility scooter.

The most potent and resilient mobility scooter ever made will help you travel in style and draw attention.

Take advantage of the extra-wide, comfy heated seat with a heated backrest and cushion to stay in the groove.
Features:
Integrated powerful controller.
Smooth Acceleration System.
Finger and Thumb Controls.
Ergonomically designed.
Luxury Heated Captain Seat.
Ultra-Soft Suspension.
Larger Rear Wheel.
Dual USB Charging Port.
Extra Storage Box.
Digital Ergonomic Steering Tiller.
Maximum Safety.
Dazzling Indicator and Brake Lights.
Automatic braking system.
Alloy Wheel.
Heavy Duty Suspension System.

Extra Range - Achieve 45 miles range on a single charge.
It comes complete with the full Mobility World support service.
FREE 1 MONTH INSURANCE WITH ALL OUR MOBILITY SCOOTERS. 

FREE 12 MONTHS ON-SITE WARRANTY WITHIN OUR HOME ASSESSMENT AREA.

FREE ENGINEER DELIVERY, DEMONSTRATION AND SET UP (WORTH £199.00) WITHIN OUR HOME ASSESSMENT AREA. 

PART EXCHANGE WELCOME
Visit us today to Test Drive this Mobility Road Scooter!
Class
3
Maximum Weight Capacity
Metric: 210 kgs
Imperial: 33 stones
Maximum Range
Metric: 72.4 kms
Imperial: 45 miles
Speed Modes
Metric: 6.4 kph, 12.8 kph
Imperial: 4 mph, 8 mph
Height
Metric: 148 cms
Imperial: 58.2 Inches
Length
Metric: 170 cms
Imperial: 67 Inches
Width
Metric: 77 cms
Imperial: 30.3 Inches
Braking System
Electromagnetic
Tyre Type
Pneumatic
Wheel Size (Front)
Metric: 35.5 cms
Imperial: 14 inches
Wheel Size (Rear)
Metric: 40.6 cms
Imperial: 16 inches
Batteries
120Ah
Motor
Rear Wheel Drive, Sealed Transaxle 1400w (4 Pole) 24 Volt DC
Ground Clearance
Metric: 9.5 cms
Imperial: 3.7 inches
Maximum Slope
12 degrees
Harrow Showroom:
78-80 Station Road, Harrow, Middx. HA1 2RX.

Telephone:
020 3974 2624

Letchworth Showroom:
Birds Hill, Letchworth, Herts, SG6 1HX

Telephone:
01462 418041

Email:
enq@mobilityworld.co.uk
Frequently Asked Question
What is a Class 3 Mobility Scooter?
Class 3 Mobility Scooters can be used on both the road and pavement. The maximum speed limit of these vehicles is 4mph on the pavement and 8mph on the road. You must be 14 years old or over to drive a Class 3 Mobility Scooter.
How fast does it go?
The Ignite Grande is a Class 3 Vehicle. This mobility scooter has two speed modes; Low (up to 4mph) for use on the pavements and High (up to 8mph), to be selected when driving on the road.
Do I need a driving licence or to pay road tax?
Mobility scooters are not legally defined as vehicles and therefore you do not need a driving licence or to pay road tax. You still need to register your Cabin Car with the DVLA by completing a simple application form. This is included in the Welcome Pack. You must also be 14 years of age or older to legal operate the vehicle.
Do I need to register my Ignite Grande with the DVLA?
The Ignite Grande is not subject to Vehicle Excise Duty ('road tax'). However, all new and used Class 3 vehicles including the Ignite Grande must be registered with the Driver and Vehicle Licensing Agency (DVLA).
Do I need to insure my mobility scooter?
Although it is not a legal requirement, we strongly recommended that you hold a valid comprehensive mobility scooter insurance policy. These polices cover your personal safety, other people's safety, costs towards accidental damage and the value of your mobility scooter. For details of recommended insurance companies please ask to contact us for further information.
Can I use my mobility scooter inside buildings and shops?
Yes, you can. British law states that all public buildings must have disabled access – this includes mobility scooters. Most major supermarkets are equipped with wider aisles. One of the reasons for this is to facilitate the use of mobility scooters and wheelchairs. If you are intending to use your mobility scooter in smaller shops we recommend you check with the store first.
Is the Ignite Grande available on Motability?
Not yet, however many Scooterpac dealers offer a variety of finance options to suit your circumstances. Please contact us for more information.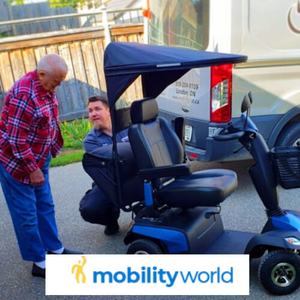 FREE ENGINEER DELIVERY, DEMONSTRATION AND SET UP
FREE ENGINEER DELIVERY, DEMONSTRATION AND SET UP (WORTH £199.00) WITHIN OUR HOME ASSESSMENT AREA.