Product Information
INVACARE REHAB REAR-WHEEL DRIVE AVIVA RX40 HD WITH LINX CONTROLS SYSTEM

AVIVA RX40 - the perfect combination of superior ride comfort and control. Whether driving in and around your home or negotiating the shopping centre, AVIVA's sleek style with LiNX control system provides a consistent drive experience at all times.
Its optional LiNX G-trac feature ensures a true driving direction, and with LiNX you have a choice of controls from basic drive to our revolutionary touchscreen display. The new lighting system will keep you visible and safe in low light or at night. 
AVIVA RX40 is the perfect choice when you're looking for a reliable and comfortable ride. The innovative suspension with our CTC system ensures that the seat remains isolated against vibrations and bumps, while all four wheels always remain in contact with the ground for optimum weight distribution and traction.
With its sleek, modern design and cutting-edge technology, this chair is perfect for everyday use. Whether you're navigating tight spaces or hitting the open road, the RX40 delivers unbeatable control and extreme ride comfort. Plus, with a turning radius of just 560mm, it's extremely versatile and easy to manoeuvre. So if you're looking for a reliable mobility solution that can handle anything life throws your way, look no further than the AVIVA RX40!
The AVIVA RX40 is the perfect way to navigate through confined spaces with ease. With its petite base, it's easy to turn in small spaces like narrow hallways, shopping aisles, offices, or cafes. And with a seat to floor height of only 435mm, it's ideal for positioning at tables or desks. Plus, it can be used in wheelchair accessible vehicles (WAVs). So whether you're looking for an easy way to get around your home or office, or you need a wheelchair that can go anywhere you do, the AVIVA RX40 is the perfect solution.
The AVIVA RX40 has got a versatile and comfortable seat cushion that can be customized to your unique needs. It features a number of different seat cushions and backrest options, including the Matrx, Rea, and Flex 3, to provide a seating solution that perfectly fits your body. Additionally, the AVIVA RX40 offers a manual settable seat tilt of up to 15 degrees and a recline function of up to 30 degrees, giving you maximum pressure relief. Finally, the Modulite feature allows for stepless adjustments in seat depth, width, angle, and centre of gravity, ensuring you always have a perfect fit.
With leg rests and armrests that are adjustable and removable, it offers a host of options and accessories to ensure an optimum fit. It's available with a range of specialist control options, so you can choose the speed that's right for you. Plus, it comes with larger batteries that are ideally suited for more heavy-duty use and longer drives.
Features:
Modern Design

Perfect manoeuvrability 

Max user weight 160kg (25 Stone)

Modulite adjustable seating system

Telescopic adjustable seat widths from 330mm - 530mm (13" - 21") with an additional 50mm, (2") by arms

Seat depths 410mm - 510mm stepless adjustment (16" - 20")

Tension adjustable backrest

Standard T-Armrests, detachable with short armpad

Manual settable seat Tilt (0° - 20°)

Manual settable backrest Recline (0°- 30° in 3.75°steps)

80° hangers with fixed footplate

LiNX control REM110 with standard bracket

Choice of 5 Shroud colours, 5 Rim insert colours

9" (225 mm) x 2.80 (70 mm) Castor, puncture-proof solid tyre

14" (355 mm) x 3" (75 mm), Solid inlay black drive wheels

CTC Suspension Control - Traction - Comfort

6 km/h (4mph) 4 pole Durawatt motors and 60Ah batteries

8A (200 - 250V) charger

Anti tippers

4 Point tie-down system

Lapbelt with auto-lock (adjustable on both sides)
Crash Tested
It comes complete with the full Mobility World support service. 
FREE 1 MONTH INSURANCE WITH ALL OUR MOBILITY SCOOTERS. 

FREE 12 MONTHS ON-SITE WARRANTY WITHIN OUR HOME ASSESSMENT AREA.

FREE ENGINEER DELIVERY, DEMONSTRATION, AND SET UP (WORTH £199.00) WITHIN OUR HOME ASSESSMENT AREA. 

PART EXCHANGE WELCOME
CALL US TODAY TO ARRANGE YOUR FREE NO-OBLIGATION POWERCHAIR ASSESSMENT!
| | |
| --- | --- |
| Rear base unit | Rear base unit with small wheels for added stability |
| Seat Tilt & Recline | The seat tilt and recline function offer a 15-degree seat tilt and 30-degree seat recline for maximum pressure relief. |
| A range of colours | Pick from a range of colours for the contoured shrouds, castors and wheel rim inserts. Black comes as standard, but you can also choose from blue, red, silver or purple. |
| LINX system technology | The RX40 features our latest technology with the LINX system that cleverly interprets, learns and adapts the motors to changes in driving habits to ensure a consistent drive performance day after day. This inbuilt intelligent system compensates for imbalances when driving allowing for a more accurate, predictable drive control. |
| Axendo lighting system | The new lighting system will keep you visible and safe in low light or at night. With this fully road legal lighting package it uses ultra-beam technology that is significantly brighter than other models of powerchairs. |
| CTC suspension system | Innovative suspension with our CTC system isolates the seat against vibrations and bumps. All four wheels always remain in contact with the ground, providing optimum weight distribution for traction and control. |
| | |
| --- | --- |
| SEAT WIDTH | 380, 430 mm |
| SEAT DEPTH | 410, 460, 510 mm |
| SEAT HEIGHT | 435, 460, 485 mm (3) |
| BACKREST HEIGHT | Sling back seat; 480/540mm Flex3; 506-610mm. Matrx: 400/500mm |
| ARMREST HEIGHT | 230-360mm |
| LENGTH OF FOOTRESTS | 280-460mm |
| SEAT ANGLE | 0 degrees to +30 degrees |
| BACKREST ANGLE | 90 to 120 degrees |
| TOTAL HEIGHT | 1000-1335mm |
| TOTAL LENGTH INC. FOOTRESTS | 1026-1300mm |
| TOTAL LENGTH WITHOUT FOOTRESTS | 830mm |
| DRIVING UNIT WIDTH | 560-635mm |
| MAX. USER WEIGHT | 160kg |
| BATTERY CAPACITY | 60Ah, 73.5Ah |
| TURNING DIAMETER | 1506-2086mm |
| MAX. CLIMBABLE OBSTACLE HEIGHT | 60mm (100mm with kerb climber) |
| MAX. SAFE SLOPE | 6, 10 degrees |
| MOTOR CAPACITY | 2 x 340W |
| SPEED | 6, 10 & 12.5km/h |
| DRIVING RANGE | Up to 47km (10) |
| TOTAL WEIGHT | 105-485.2Kg (10) |
Welcome to the worry-free Motability Scooter & Power Chair Leasing Scheme.
| | |
| --- | --- |
| Weekly Rental | £50.19 |
| Description | Invacare - AVIVA RX40 HD |
| Type | Powered wheelchair |
| Class | 3 |
| Number of Wheels | 4 |
| Max Speed | 8 mph |
| Max weight capacity (kg) | 160 kg |
| Max range(miles) | 33 km or (21 miles) |
| Product weight | 150 kg |
Harrow Showroom:
78-80 Station Road, Harrow, Middx. HA1 2RX.

Telephone:
020 3974 2624

Letchworth Showroom:
Birds Hill, Letchworth, Herts, SG6 1HX

Telephone:
01462 418041

Email:
enq@mobilityworld.co.uk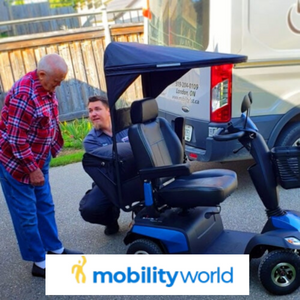 FREE ENGINEER DELIVERY, DEMONSTRATION, SET UP AND 1 MONTH INSURANCE
FREE ENGINEER DELIVERY, DEMONSTRATION AND SET UP (WORTH £199.00) WITHIN OUR HOME ASSESSMENT AREA. 1 MONTH FREE INSURANCE WITH ALL OUR MOBILITY SCOOTERS