Jar Key
Product Number : PR60035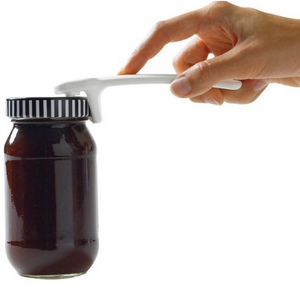 View Similar Products
Product Information
JAR KEY
Patented and design awarded jar opener that fits all traditional preserving jars.
The Jar Pop Key is placed against the lid of the jar, and with a slight lift, the vacuum is released, and the lid can now be easily unscrewed.
The Jar Pop Key is made out of high-density plastic in an elegant design. Jar Pop Key has no sharp edges or points, no removable parts, and is extremely durable.
Dishwasher proof.

The Jar Pop Key is the perfect kitchen accessory for anyone who has ever struggled to open jars! It's lightweight and ergonomic, yet made with high-density plastic to be as durable as it is beautiful. So you can have ease of mind knowing this handy kitchen tool will last through even the toughest kitchen tasks.

The patented design is designed with you in mind, making sure it fits all traditional preserving jars for effortless lid removal. The handle even has a slight lift feature that releases the lid's vacuum seal – so those stuck lids finally don't stand in your way anymore!

Forget digging through drawers full of bulky tools that take too much time and never seem to work anyway! With the Jar Pop Key, you'll turn unscrewing jars into an easy task so you can get on with what really matters – cooking delicious food or enjoying quality meals. Plus, unlike other jar openers, jar Pop Key comes completely dishwasher proof so cleaning up will be painless and hassle-free.

Simply put, life just became easier with the help of the Jar Pop Key – no more straining your hand or getting frustrated over ripping stubborn lids off jars!