Long Handled Toe Nail Scissors
Product Number : PR63006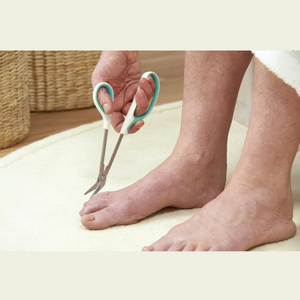 View Similar Products
Product Information
Long Handled Toe Nail Scissors
The moulded finger and thumb grip on these Toenail scissors allows easier gripping and greater leverage.
The extended shank gives extra reach for those who have difficulty bending, and the long loop handle allows strength and control of the whole hand being used.
The slightly serrated stainless steel blades stop the nail from slipping whilst being cut. This strong angled blade provides a good cutting position and can cut through even the toughest nails.
Measures 210mm (8") long .
The Toenail scissors feature a unique design with a molded finger and thumb grip, providing easy gripping and increased leverage. With an extended shank, these scissors offer added reach for individuals who may have difficulty bending, while the long loop handle enables them to use their whole hand with strength and control.
Made from high-quality stainless steel, the slightly serrated blades prevent the nail from slipping during cutting. The strong angled blade ensures an optimal cutting position, making it capable of trimming even the toughest nails.
These scissors measure 210mm (8") in length, providing a comfortable and practical option for maintaining healthy toenails.