Savanah® Raised Toilet Seat
Product Number : SN2112
Product Information
Savanah® Raised Toilet Seat Provides :


Assured Comfort and Support
This toilet seat is meticulously crafted to enhance the ease of sitting down and getting up from the toilet. The elevated design offers users the necessary height for a seamless experience, allowing them to comfortably sit and rise without any challenges or requiring additional assistance. By using the raised toilet seat, users can reduce the need for excessive bending and gain a sense of confidence.
Empowerment and Self-Reliance
The raised toilet seat is especially beneficial for elderly individuals, those with disabilities, and those who are handicapped. Its purpose is to foster greater privacy in the restroom and promote user independence, ultimately boosting their self-assurance. To accommodate a wide range of users, this elevated toilet seat is available in three different size options, ensuring a perfect fit for all.
Sturdy Construction
Crafted from lightweight plastic, this product boasts a slight downward slope towards the front, facilitating an even easier and more comfortable experience when sitting down and standing up. It includes a lid and adjustable brackets to enhance user safety and security during use. All three size options are compatible with standard-sized toilets.
Main Features :

Key dimensions:
Overall length: 15.25" 3/4"
Overall width with brackets: 16" 1/4"
Aperture: 10.6" 1/2 x 8" 1/4"


choosing a selection results in a full page refresh
Savanah® Raised Toilet Seat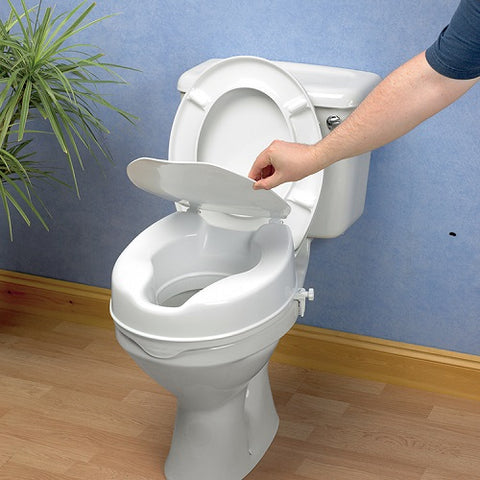 Savanah® Raised Toilet Seat
With VAT Relief

Flash Sale