Stander Assist-A-Tray
Product Number : PR60189
Product Information
Stander Assist-A-Tray
An easy-to-stand safety handle and swivel tray.
This new, patented invention features an ergonomic grip handle that provides support in and out of any sofa, chair, or recliner.
Attached to the handle is a dual pivoting tray that rotates 360 degrees to allow for the most convenient placement.
The tray includes a cup holder and extended compartment, perfect for keeping handy items close by.
Introducing a revolutionary product that makes getting in and out of your sofa, chair or recliner easier and more convenient than ever before! The product features a patented design with an ergonomic grip handle that provides the necessary support to stand up or sit down with ease.
In addition, this innovative product includes a dual pivoting tray that can rotate a full 360 degrees, allowing you to position it in the most convenient spot for you. The tray comes with a cup holder and an extended compartment that is perfect for storing handy items such as remotes, phones, or books.
Whether you're recovering from an injury or just looking for some extra support, this product is a great solution. It's easy to install and can be used with any sofa, chair, or recliner. With this product, you'll be able to enjoy your favorite activities while seated and have everything you need right at your fingertips!
choosing a selection results in a full page refresh
Stander Assist-A-Tray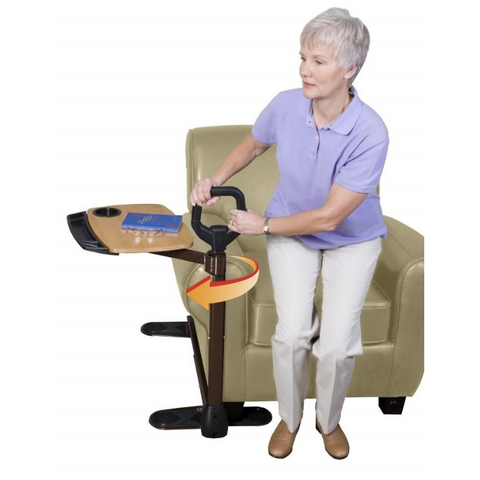 With VAT Relief

Flash Sale