Product Information
SUNRISE MEDICAL FRONT-WHEEL DRIVE POWER WHEELCHAIR QUICKIE Q500 F SEDEO PRO

Conquer the great outdoors with ease and style – thanks to the new QUICKIE Q500 F front-wheel drive wheelchair. With its in-built infinite adjustment, this seat can be customized to your specific width and depth needs – all with just one simple tool. And if your needs happen to change down the road, no problem! The Q500 F Sedeo Pro can easily be readjusted to accommodate. Additionally, this seat comes equipped with a front-wheel-drive base for great outdoor performance and indoor manoeuvrability. Plus, it boasts the best stability on steep declines – perfect for tackling any terrain.

The Q500 F Sedeo Pro is a versatile, comfortable and easy-to-use seating system that is perfect for all environments. The small turning circle and compact base make it easy to navigate around, while the seat cushion, back, headrest and armrests can be tailored to your individual requirements for maximum comfort. If you need to lay down for pressure relief or to relax, the SEDEO PRO has a wide range of improved lift and tilt options that will allow you to find the perfect position. Whether you're at home, at work or out and about, the SEDEO PRO will ensure maximum comfort as you transition through your day.
This chair features a new anti-shear backrest that moves 0-50 degrees to minimize shear forces on your back, as well as a power centre-mounted leg rest that goes from 0-90 degrees. Both of these features assure you of maximum comfort as you transition. Additionally, the SEDEO PRO extra deep Flexi back provides maximum support and a comfortable seating position, ensuring that you always feel well supported. For even more complex positioning requirements, simply select from our comprehensive range of laterals, hip or knee supports, or pommels.
Sitting for long periods of time can be tough on your back, but with the Q500 F Sedeo Pro, you can rest easy. With its innovative anti-shear backrest and power centre leg rests, this chair ensures that you always have a comfortable and supportive seat. Plus, with its deep Flexi back, the Sedeo Pro is perfect for complex positioning requirements.
The Q500 F Sedeo Pro is just what you need! With its castor arms design and responsive ride, this scooter provides excellent manoeuvrability for tight spaces. Plus, it comes with advanced drive wheel suspension and powerful motors to ensure a smooth, stable ride on any surface.
Features:
Modern Design

Perfect manoeuvrability 

Front-Wheel Drive
Anti-shear backrest

Power elevating legrest

Flexible back cushion

Positioning elements

Flip back armrest

Highly configurable

Tailored seating

SEDEO Pro seating system

Positioning elements

Quick and easy to adjust

All Round Suspension

Spirit Level Technology

Gyro control

4-pole motors

Bluetooth & iDrive
Switch-It Controls
Elevate and Drive C-Me system

Crash Tested

It comes complete with the full Mobility World support service. 
FREE 1 MONTH INSURANCE WITH ALL OUR MOBILITY SCOOTERS. 

FREE 12 MONTHS ON-SITE WARRANTY WITHIN OUR HOME ASSESSMENT AREA.

FREE ENGINEER DELIVERY, DEMONSTRATION, AND SET UP (WORTH £199.00) WITHIN OUR HOME ASSESSMENT AREA. 

PART EXCHANGE WELCOME
CALL US TODAY TO ARRANGE YOUR FREE NO-OBLIGATION POWERCHAIR ASSESSMENT!
| | |
| --- | --- |
| ADVANCED DRIVE WHEEL SUSPENSION | With the Full Track Suspension System you can overcome any obstacle and barely feel it. Together with the spirit level technology, it will ensure you have a smooth and comfortable ride on any terrain! |
| SPIRIT LEVEL TECHNOLOGY | Enjoy maximum traction thanks to the unique spirit level technology. Both drive wheels are connected by a pivot bar that absorbs the natural pull to one side when travelling across cambers and around corners at speed, so both wheels keep maximum traction at all times. |
| MAXIMUM FREEDOM | With large wheels, powerful high torque 4-pole motors powering speeds of 6, 8, 10 or 13 kph (4, 5, 6 or 8 mph) and a choice of 60 or 80 Ah batteries to maximise your range (up to 40km (25 miles), you can always travel in confidence with the Q500 F. |
| KEEP ON TRACK WITH GYRO-CONTROL | The optional Gyro-Tracking System automatically detects and corrects the smallest deviation from your direction. By providing a pinpoint accurate drive, it will reduce the number of physical or cognitive actions required to keep you on track – making for a less-demanding drive (especially if using special controls). |
| SEDEO PRO | The SEDEO PRO frame offers great flexibility as it is fully adjustable. All adjustments can be done in a very quick and easy way using just one tool, even whilst in the chair. It can be easily personalised to suit individual requirements and quickly adapted should your needs change. |
| FLEXIBLE BACK CUSHION | Discover the new powered recline backrest with 100 mm of anti-shear. A wide range of wheelchair seat cushions and backrest cushions are available for the SEDEO PRO seating system, including the flexible back cushion with adjustable straps and lateral support for unique comfort and easy positioning. This back forms to the shape of you. |
| RAISING COMFORT WHEN DRIVING ELEVATED | Unlike other powerchairs, our suspension doesn't lock-out when using C-Me. So you get the same smooth and comfortable ride over uneven terrain, even when elevated! Plus, anti-pitch technology will keep you safe and stable on inclines too. |
| POWER ELEVATING LEG REST | The power elevating and length compensating leg rest allows you to reach the best position. It is available as a centre mount and a swing away version. You can also choose from a standard centre mount or 70° swing-away leg rest and a manual elevating swing-away leg rest. |
| WHITMYER HEADRESTS | Created to address a range of user needs from basic support to multiple-point control. WHITMYER headrests come in a variety of pad shapes and sizes for superior head positioning and comfort |
| JAY CUSHIONS & BACKS | Designed for pelvic stability, skin protection and comfort, JAY cushions and backs are low maintenance, highly customisable and are available in a large variety to meet your needs. |
| ANTI-SHEAR BACKREST | Discover the new powered recline backrest with 100 mm anti-shear. This makes sure that there is no sliding between you and the cushion and opens to 30°. Combine this with an elevating leg rest to achieve a sleeping position. |
| FLIP BACK ARMRESTS | The easy to operate flip back armrest gives you free transfer space. You can choose from a removable or reclining version. Also available: single post removable armrest. All compatible with 5 different armpad options. |
| | |
| --- | --- |
| WIDTH | 640 mm |
| LENGTH | Max. 1340 mm |
| SEAT WIDTH | 380 - 560 mm |
| SEAT HEIGHT | 415 – 490 mm |
| SEAT DEPTH | 400 - 560 mm |
| BACKREST HEIGHT | 440 - 560 mm |
| BACK RECLINE | 90° - 150° |
| TURNING RADIUS | 735 mm |
| MAX. RANGE | 40 km |
| SPEED | 6 & 8 kph (standard), 10 & 13 kph (optional) |
| BATTERIES | 60 Ah, 80 Ah (optional) |
| MAXIMUM SAFE SLOPE | 8° |
| MAX KERB CLIMB | 70 mm |
| ELECTRONICS | VR2, R-Net controller; lights & indicators |
| MAXIMUM USER WEIGHT | 160 kg |
Harrow Showroom:
78-80 Station Road, Harrow, Middx. HA1 2RX.

Telephone:
020 3974 2624

Letchworth Showroom:
Birds Hill, Letchworth, Herts, SG6 1HX

Telephone:
01462 418041

Email:
enq@mobilityworld.co.uk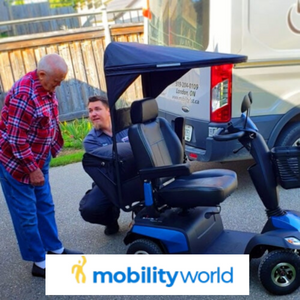 FREE ENGINEER DELIVERY, DEMONSTRATION, SET UP AND 1 MONTH INSURANCE
FREE ENGINEER DELIVERY, DEMONSTRATION AND SET UP (WORTH £199.00) WITHIN OUR HOME ASSESSMENT AREA. 1 MONTH FREE INSURANCE WITH ALL OUR MOBILITY SCOOTERS