Product Information
CHILDREN'S MID-WHEEL DRIVE PEDIATRIC POWER CHAIR ZIPPIE Q300 M MINI KIDS

Kids will love exploring in the Zippie Q300 M Mini! This ultra-compact mobility scooter is perfect for kids and young adults. Weighing just 130 kg, it's easy to lift and fits in tight spaces. With a seat height of 410-430 mm, it's perfect for small children or those with special needs. The Q300 M Mini Kids also climbs kerbs up to 70 mm, so you can easily get around town. Order your Q300 M Mini Kids today!
With ZIPPIE's Q300 M Mini Kids, adjusting to your child's ever-changing needs is easy. And because smaller kids need a tight turning circle, we've designed the Q300 M Mini Kids with centre-mount leg rest. With the Q300 M Mini Kids wheelchair, you'll never have to worry about changing to a new chair after your kids have just gotten used to one. The adjustable seating system can grow without additional parts in width (280 - 400 mm) and depth (260 - 400 mm), providing a perfect fit for your child as they grow. This leads to the best positioning and stability and keeps your child comfortable throughout the day - whether they're playing or resting.
But the Q300 M Mini Kids isn't just any old mode of transportation. Its infinitely adjustable seat and footrest make it customisable to fit riders of all sizes, meaning everyone can enjoy the perfect fit. And with multiple angles and placement options for positioning feet, ankles and knees, you'll be able to find just the right position for maximum comfort on those long trips
Features:
Modern Design

Perfect manoeuvrability 

Anti-Pitch Technology

All-Wheel Independent Suspension

Climb Kerbs of up to 70 mm

Powerful 4-Pole Motors

Range of up to 36 km

TRUE Mid-Wheel-Drive Technology

Tiny 1120 mm Turning Circle

Short 1060 mm Base Length

Easy Transfers

Universal Headrest
Powered Lift and Tilt
SEDEO LITE Backrest
Z-Finity Footrest
12 exciting shroud designs patterns

Crash Tested

It comes complete with the full Mobility World support service. 
FREE 1 MONTH INSURANCE WITH ALL OUR MOBILITY SCOOTERS. 

FREE 12 MONTHS ON-SITE WARRANTY WITHIN OUR HOME ASSESSMENT AREA.

FREE ENGINEER DELIVERY, DEMONSTRATION, AND SET UP (WORTH £199.00) WITHIN OUR HOME ASSESSMENT AREA. 

PART EXCHANGE WELCOME
CALL US TODAY TO ARRANGE YOUR FREE NO-OBLIGATION POWERCHAIR ASSESSMENT!
| | |
| --- | --- |
| CAPSULATED JOYSTICK | This (optional) mounting option has 3 locking positions - including outwards (for getting closer to tables), inwards (if you have limited hand mobility) and the standard driving position. |
| ANTI-PITCH TECHNOLOGY | Traditionally when a powerchair comes to a halt on a slope, the stopping motion will jolt your child forwards. We've solved that problem with Anti-Pitch technology, so they're kept safe and stable in their seat. |
| ALL-WHEEL INDEPENDENT SUSPENSION | With PATENTED all-wheel independent suspension, all six wheels remain on the ground whilst climbing and transitioning obstacles. As any shocks or bumps are absorbed by the wheel's suspension, your child provided a soft and smooth ride. |
| GREATER TRACTION | Get the best traction, stability and obstacle tackling with outdoor 14" drive wheels. They'll also keep the chair slim at just 570mm |
| STOP SWITCH FOR ADDED SAFETY | There's safety in stopping. Our added remote stop switch allows an attendant to stop a powered wheelchair via an RF remote from up to 30 meters away. Operating distance is dependent on the environment. |
| RAISING COMFORT WHEN DRIVING ELEVATED | Suspension doesn't lockout when using C-Me, for the same smooth and comfortable ride over uneven terrain, even when elevated! Plus, anti-pitch technology helps keep safety and stability on inclines too. |
| TILT-IN-SPACE | Adjust your child's seated position throughout the day with 50° of powered tilt. Helping with pressure relief by redistributing your weight from the cushion to the backrest, your child will maintain a comfortable seated position with reduced muscular effort |
| POWERED LIFT & TILT | Reach new heights with 300 mm of seat lift and get to everyday objects that would otherwise be out of grasp. Your child can transfer easier thanks to being in a higher position to stand from. Plus, with a 30° of tilt, you can sit back and enjoy greater relaxation and pressure distribution too. |
| POWERED ELEVATING & ARTICULATING LEG RESTS | By raising and lowering the legs, these leg rests help to reduce swelling and improve circulation. By adjusting in length, the seated position is kept constant, preventing unwanted pelvic movement. |
| PUSH PERFORMANCE WITH 4-POLE MOTORS | These motors provide a punchier response to driving commands and also a greater ability to tackle troublesome terrain. Longer-lasting, highly efficient with improved performance, our motor technology can't be easily duplicated anywhere else |
| PERSONALISED SHROUD DESIGNS | You'll be sitting pretty with 12 fresh shroud designs! Co-ordinate or contrast them with 7 accent colours for the wheel and castors to get the perfect mix. |
WIDTH

520 mm (12" Drive Wheels) /

540 mm (13" Drive Wheels) /

570 mm (14" Drive Wheels)

LENGTH
From 1060 mm
SEAT WIDTH
280 - 400 mm
SEAT HEIGHT
410 - 490 mm
SEAT DEPTH
260 - 400 mm
SEAT TILT
0° - 6° (Fixed Tilt)
POWER SEAT TILT
50° Powered Tilt
SEAT LIFT
300 mm
ADDITIONAL GROWTH (WIDTH)
2"
BACKREST HEIGHT
380 - 485 mm
BACKREST ANGLE
-4° to 16°
TURNING RADIUS
560 mm
CENTRE OF GRAVITY
Yes
CASTOR WHEEL
7"
DRIVE WHEEL
12" / 13" / 14"
MAX. RANGE

36 km (with 56 Ah batteries)

SPEED
6 kph / 8 kph / 10 kph
BATTERIES
41 Ah / 56 Ah
MAXIMUM SAFE SLOPE
6°
MAX KERB CLIMB

50 mm (with 12" Drive Wheels) /

70 mm (with 14" Drive Wheels)

LIGHT AND INDICATORS
Yes
ELECTRONICS
VR2 / R-Net
MIN. WEIGHT

From 103 kg (41 Ah batteries)

TOTAL WEIGHT

From 103 kg (41Ah batteries)

MAXIMUM USER WEIGHT
75 kg
Harrow Showroom:
78-80 Station Road, Harrow, Middx. HA1 2RX.

Telephone:
020 3974 2624

Letchworth Showroom:
Birds Hill, Letchworth, Herts, SG6 1HX

Telephone:
01462 418041

Email:
enq@mobilityworld.co.uk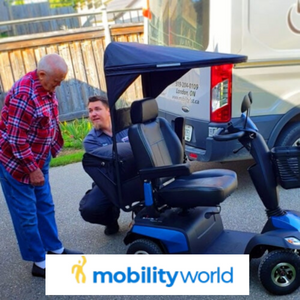 FREE ENGINEER DELIVERY, DEMONSTRATION, SET UP AND 1 MONTH INSURANCE
FREE ENGINEER DELIVERY, DEMONSTRATION AND SET UP (WORTH £199.00) WITHIN OUR HOME ASSESSMENT AREA. 1 MONTH FREE INSURANCE WITH ALL OUR MOBILITY SCOOTERS