Product Information
SUNRISE MEDICAL MID-WHEEL DRIVE POWER WHEELCHAIR QUICKIE Q300 M MINI TEENS

This chair is perfect for growing teens, with adjustable seating that allows for growth and increased manoeuvrability. With a max. user weight of 120 kg, it can go where others can't thanks to its compact 520 mm width and 1120 mm turning circle. And to make sure you stay safe and stable outdoors, it comes with our patented all-wheel suspension.
The QUICKIE Q300 M Mini Teens is the perfect powerchair for anyone looking for a compact and manoeuvrable option. With TRUE mid-wheel drive, the Q300 M Mini Teens provides a more compact turning circle with increased traction. The Q300 M Mini Teens is also ridiculously compact and manoeuvrable, making it perfect for busy classrooms or hallways.
Thanks to its TRUE mid-wheel-drive technology, this chair turns on the spot with ease, making it ideal for tight spaces. And at just 1060 mm long, it conveniently fits in and out of the smallest lifts and spaces.
With a variety of swing-away leg rests, armrests, and controllers available, it's easy to find the perfect fit for your needs. Plus, our Anti-Pitch technology ensures a stable ride, while our all-wheel independent suspension ensures a smooth transition over any obstacle.
With its 300 mm (12") drive wheels, this power chair can take on kerbs of up to 50 mm, so you can get around quickly and easily. And if you need a bit more power, upgrade to 355 mm (14") drive wheels to tackle even bigger kerbs. With 56 Ah batteries, the Q300 M Mini Teens has an impressive range of up to 36 km – perfect for getting around town or campus. And with super-strong 4-pole motors powering your way, you won't have to worry about a thing. Packed with plenty of powered and styling options, this is a powerchair that'll align with your personality perfectly!
Features:
Modern Design

Perfect manoeuvrability 

Anti-Pitch Technology

All-Wheel Independent Suspension

Climb Kerbs of up to 70 mm

QUICKIE 4-Pole Motors

Range of up to 36 km

TRUE Mid-Wheel-Drive Technology

Tiny 1120 mm Turning Circle

Short 1060 mm Base Length

Easy Transfers

Crash Tested

It comes complete with the full Mobility World support service. 
FREE 1 MONTH INSURANCE WITH ALL OUR MOBILITY SCOOTERS. 

FREE 12 MONTHS ON-SITE WARRANTY WITHIN OUR HOME ASSESSMENT AREA.

FREE ENGINEER DELIVERY, DEMONSTRATION, AND SET UP (WORTH £199.00) WITHIN OUR HOME ASSESSMENT AREA. 

PART EXCHANGE WELCOME
CALL US TODAY TO ARRANGE YOUR FREE NO-OBLIGATION POWERCHAIR ASSESSMENT!
SEAT TO FLOOR HEIGHT
A real low-rider, the Q300 M Mini Teens effortlessly fits under those classroom tables
with an ultra-low seat-to-floor height starting
from 410 mm (with fixed tilt) and 430 mm
(with powered lift/tilt)
CAPSULATED JOYSTICK
This (optional) mounting option has 3 locking positions - including outwards (for getting closer to tables), inwards (if you have limited hand mobility) and the standard driving position.
BASE LENGTH
Ultra-short in length, the Q300 M Mini Teens conveniently fits in and out of the smallest lifts and tight spaces with ease. It's also light enough (from 130 kg) to be compatible with most floor lifts too.
GET CLOSER WITH THE CENTRE MOUNT LEG REST
Swap traditional leg rests at the front of your powerchair with the (optional) centre-mount and not only can you get closer to objects (like under tables), but you'll get the tightest turning circle too!
Z-FINITY FOOTRESTS
Adjustable between 180 mm above the seat pan to 480 mm below, these footrests provide support for growing teens. Its pivot arm allows for infinite adjustment of the footrest angle and placement (for ideal positioning of the feet, ankles and knees).
SEDEO LITE DEEP CONTOUR BACKREST
Deeply contoured for comfort, this backrest has tension-adjustable straps that can be easily adjusted to follow and support a variety of postural shapes. the deep laterals are also integrated inside the backrest, so not only will they provide constant trunk stability, they also won't move or slip over time either.
TILT-IN-SPACE
Adjust your seated position throughout the day with 30° of powered tilt. Helping with pressure relief by redistributing your weight from the cushion to the backrest, you can maintain a comfortable seated position with reduced muscular effort.
R-NET ADVANCED JOYSTICK
Ramp up the onboard technology with this (optional) large, easy-to-read HD display and simple to control paddle switches. Take control of your world with integrated Bluetooth and i-device functionality and control your TV, phone and other devices all from your Q300 M Mini Teens.
POWERED ELEVATING & ARTICULATING LEG RESTS
By raising and lowering your legs, these leg rests help to reduce swelling and improve circulation. By adjusting in length, your seated position is kept constant, preventing unwanted pelvic movement.
POWERED LIFT & TILT
Reach new heights with 300 mm of seat lift and get to everyday objects that would otherwise be out of grasp. You can also transfer easier thanks to being in a higher position to stand from. Plus, with a 30° of tilt, you can sit back and enjoy greater relaxation and pressure distribution too.
RAISING COMFORT WHEN DRIVING ELEVATED
Unlike other powerchairs, our suspension doesn't lock out when using C-Me. So you get the same smooth and comfortable ride over uneven terrain, even when elevated! Plus, anti-pitch technology will keep you safe and stable on inclines too.
STOP SWITCH FOR ADDED SAFETY
There's safety in stopping. Our added remote stop switch allows an attendant to stop a powered wheelchair via an RF remote from up to 30 meters away. Operating distance is dependent on the environment
ELEVATE WHILST DRIVING WITH ASSIGNABLE BUTTONS
Fed up with complex joystick movements or having to stop to use your seat lift? With our PATENTED assignable buttons, you can change any button (or assign a second, long-press function) to activate C-ME (even when driving).
PERSONALISED SHROUD DESIGNS
Prefer a more individual feel to your powerchair shroud? Almost any type of design can be printed and foil-wrapped to your shroud by our Built-4-Me team.
WIDTH

520 mm (12" Drive Wheels)

540 mm (13" Drive Wheels)

570 mm (14" Drive Wheels)

LENGTH
From 1060 mm
SEAT WIDTH
280 - 400 mm
SEAT HEIGHT
410 - 470 mm
SEAT DEPTH
360 - 500 mm
SEAT TILT
0° - 6° (Fixed Tilt)
POWER SEAT TILT
0 - 50° / 0 - 30° / -5 - 25°
SEAT LIFT
300 mm
ADDITIONAL GROWTH (WIDTH)
120 mm
BACKREST HEIGHT
385 - 510 mm
BACKREST ANGLE
-4° to 16°
TURNING RADIUS
560 mm
CASTOR WHEEL
7"
DRIVE WHEEL
12" / 14"
MAX. RANGE

Up to 25 km (with 41 Ah batteries)

Up to 36 km (with 56 Ah batteries)

SPEED
6 kph / 8 kph / 10 kph
BATTERIES
41 Ah / 50 Ah / 56 Ah
MAXIMUM SAFE SLOPE
6°
MAX KERB CLIMB

50 mm (with 12" Drive Wheels)

70 mm (with 14" Drive Wheels)

LIGHT AND INDICATORS
Yes
ELECTRONICS
VR2 / R-Net
TOTAL WEIGHT

From 103 kg (41Ah batteries)

MAXIMUM USER WEIGHT
120 kg
Harrow Showroom:
78-80 Station Road, Harrow, Middx. HA1 2RX.

Telephone:
020 3974 2624

Letchworth Showroom:
Birds Hill, Letchworth, Herts, SG6 1HX

Telephone:
01462 418041

Email:
enq@mobilityworld.co.uk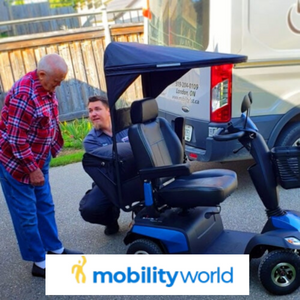 FREE ENGINEER DELIVERY, DEMONSTRATION, SET UP AND 1 MONTH INSURANCE
FREE ENGINEER DELIVERY, DEMONSTRATION AND SET UP (WORTH £199.00) WITHIN OUR HOME ASSESSMENT AREA. 1 MONTH FREE INSURANCE WITH ALL OUR MOBILITY SCOOTERS