Product Information
SUNRISE MEDICAL MID-WHEEL DRIVE POWER WHEELCHAIR QUICKIE Q700 M SEDEO PRO

The Quickie Q700 M is the perfect narrow electric wheelchair for tight spaces. With a 630 mm max. turning radius and base width of only 622 mm, you can easily navigate through doorways and corridors. The low seat height of 415 mm with SEDEO PRO and 445 mm with SEDEO ERGO also makes it easy to access Wheelchair Adaptive Vehicles (WAVs). The revolutionary SpiderTrac 2.0 suspension ensures a smooth, responsive ride, while the independent movement of all six wheels allows for crawling up and down steep obstacles.
With 4-pole motors and a choice of 60 or 80 Ah batteries, this model is designed to give you the freedom to travel wherever you want. The optional Gyro-Tracking System ensures a smooth, stable ride, making it ideal for those with limited mobility.
The QUICKIE Q700 M SEDEO PRO offers great flexibility and can be easily customized to suit your individual needs. With its adjustable frame, you can quickly adapt to changing needs, and the powered recline backrest ensures a comfortable, customized fit. Plus, with a 100 mm anti-shear cushion, you'll enjoy maximum comfort and stability.
With its power elevating and length compensating leg rest, you can reach the best position for your needs. The Q700 M is available in a centre mount or swing-away version, so you can choose the one that best fits your lifestyle. You can also choose from a standard centre mount or 70° swing-away leg rest, as well as a manual elevating swing-away leg rest. The Q700 M comes with a wide range of wheelchair seat cushions and backrest cushions, so you can find the perfect combination of comfort and support.
The QUICKIE Q700 M wheelchair is perfect for those who want a versatile, easy-to-use wheelchair. With a wide range of positioning options and accessories available, you can customize your wheelchair to fit your needs. The flip-back armrest makes transfers easier, while the reclining option provides extra comfort.
Features:
Modern Design

Perfect manoeuvrability 

Mid-Wheel Drive
SEDEO Pro seating system

Highly adjustable

Anti-shear backrest

Power elevating legrest

Flexible back cushion

Positioning elements

Flip back armrest

Highly configurable
SpiderTrac™ 2.0

Gyro Control

Bluetooth technology
4 pole high torque motors

7 vibrant colour in-lays to suit your personality
Anti-shear backrest
Power elevating legrest
Flexible back cushion
Positioning elements
Flip back armrests

Crash Tested

It comes complete with the full Mobility World support service. 
FREE 1 MONTH INSURANCE WITH ALL OUR MOBILITY SCOOTERS. 

FREE 12 MONTHS ON-SITE WARRANTY WITHIN OUR HOME ASSESSMENT AREA.

FREE ENGINEER DELIVERY, DEMONSTRATION, AND SET UP (WORTH £199.00) WITHIN OUR HOME ASSESSMENT AREA. 

PART EXCHANGE WELCOME
CALL US TODAY TO ARRANGE YOUR FREE NO-OBLIGATION POWERCHAIR ASSESSMENT!
BIOMETRIC REPOSITIONING
Moving out of a reclined position often requires use of the tilt function or to regain your proper seated posture. With the patented Biometric
Repositioning, when you move from reclined to seated position, the SEDEO ERGO will first pass through an intermediary tilted position, using gravity to realign your pelvis in one smooth, effortless motion
ANTI-SHEAR BACKREST
Transitioning in and out of recline doesn't need to be uncomfortable. The SEDEO ERGO's power recline is supported by 180 mm of antishear to better maintain the positioning of the headrest, and even chin control, during recline.
PRESSURE RELIEF REMINDERS
Pressure relief reminders tell you when it's time to change position. A log can also be kept for clinicians to review.
ADJUSTABLE TO FIT YOU
The premium headrest can easily be adjusted or removed. All seat widths and depths are infinitely adjustable with just one tool. Also, the
seat and backrest width can be adjusted independently of each other. Even the armrest height and angle-adjustment are simple to adjust too.
EASY-ENTRY SYSTEM
The seat cushion is divided into 3 elements. The two lateral side cushions can be swung-out and lifted off, ensuring a comfortable transfer. The middle part can also be substituted for a JAY cushion.
FOOTPLATE TO THE GROUND
As the footplate goes all the way to the ground, you're able to do standing transfers in-and-out.
SEDEO ERGO UP
For those who want to experience life from new heights, discover SEDEO ERGO UP. Combining all of the benefits of the SEDEO ERGO seating
system with the power to stand whenever you want.
STANDING SEATING SYSTEM
With a standing angle of up to 85°, the SEDEO ERGO UP allows to stand whenever you want and offers many health and lifestyle benefits.
90° KNEE ANGLE
The new centremount footrest gives a true 90° knee angle in seated position. The ergonomic knee pad is also depth adjustable.
WHITMYER HEADRESTS
Created to address a range of user needs from basic support to multiple-point control. WHITMYER headrests come in a variety of pad shapes and sizes for superior head positioning and comfort.
JAY CUSHIONS & BACKS
Designed for pelvic stability, skin protection and comfort, JAY cushions and backs are low maintenance, highly customisable and are available in a large variety to meet your needs.
TRACK. ACT. THRIVE.
The Remote Seating app plays an important role in pressure management. With the app, you can self-monitor your pressure relief progress and securely share the data with your caregiver network. The app tracks key seating positions such as tilt, recline, and leg elevation, as well as the duration of these positions.
| | |
| --- | --- |
| WIDTH | 610 - 620 mm |
| LENGTH | 1280 mm |
| SEAT WIDTH | 380 - 560 mm |
| SEAT HEIGHT | 415 - 490 mm |
| SEAT DEPTH | 400 - 560 mm |
| BACKREST HEIGHT | 440 - 560 mm |
| BACK RECLINE | 90° to 150° |
| TURNING RADIUS | Max. 630 mm |
| MAX. RANGE | Max. 40 km (with 80 Ah batteries) |
| SPEED | 6 & 8 kph (standard), 10 & 13 kph (optional) |
| BATTERIES | 60 Ah, 80 Ah (optional) |
| MAXIMUM SAFE SLOPE | 6° |
| MAX KERB CLIMB | 75 mm |
| ELECTRONICS | VR2, R-Net |
| MIN. WEIGHT | 130 kg |
| MAXIMUM USER WEIGHT | 160 kg |
Welcome to the worry-free Motability Scooter & Power Chair Leasing Scheme.
| | |
| --- | --- |
| Weekly Rental | £53.66 |
| Description | Sunrise Medical - Q700-M 6kph Sedeo ProSeating PowerLift and Tilt |
| Type | Powered wheelchair |
| Class | 3 |
| Number of Wheels | 6 |
| Max Speed | 6 mph |
| Max weight capacity (kg) | 160 kg |
| Max range(miles) | 51 km or (32 miles) |
| Product weight | 188 kg |
Harrow Showroom:
78-80 Station Road, Harrow, Middx. HA1 2RX.

Telephone:
020 3974 2624

Letchworth Showroom:
Birds Hill, Letchworth, Herts, SG6 1HX

Telephone:
01462 418041

Email:
enq@mobilityworld.co.uk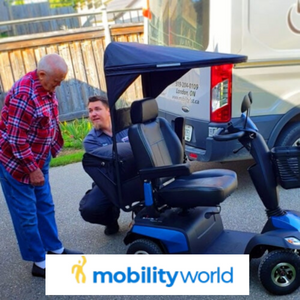 FREE ENGINEER DELIVERY, DEMONSTRATION, SET UP AND 1 MONTH INSURANCE
FREE ENGINEER DELIVERY, DEMONSTRATION AND SET UP (WORTH £199.00) WITHIN OUR HOME ASSESSMENT AREA. 1 MONTH FREE INSURANCE WITH ALL OUR MOBILITY SCOOTERS