Product Information
SUNRISE MEDICAL MID-WHEEL DRIVE POWER WHEELCHAIR QUICKIE Q700-UP M SEDEO ERGO

The Q700-UP M Ergo is a top-of-the-line power wheelchair that offers excellent manoeuvrability in tight compact spaces. With a narrow base and a 630 mm max. turning radius, it easily slides under tables and Access Wheelchair Adaptive Vehicles (WAVs) with a low seat height of just 415 mm. Additionally, the Q700-UP M Ergo features independent suspension on all four wheels for optimal comfort. The Full Track Suspension System absorbs all the small everyday bumps in the road by allowing them to articulate, providing a smooth and comfortable ride.
With its unique leveller technology and powerful 4-pole motors, this wheelchair can tackle any terrain, whether it's smooth pavement or rough terrain. And with a choice of 60 or 80 Ah batteries, you can always travel with confidence, knowing you have plenty of power to get where you need to go. Plus, the optional Gyro-Tracking System automatically detects and corrects any deviation from your chosen direction, so you can always travel straight and true.
SEDEO ERGO UP provides the perfect ergonomic seating solution for those who want to stay active while they work. By providing a standing angle of up to 85º and a host of programmable seating positions, this chair allows you to find the perfect position for your body and keep you comfortable all day long. And with Memory Seating, you can save your favourite settings for easy access later on.
With its ability to save up to six programmable positions, you can transition to a standing position whenever you want – all with the simple press of a button. The SEDEO ERGO UP also features a centre mount footrest for a true 90° knee angle in a seated position. Plus, the ergonomic knee pad is depth adjustable, providing improved pressure relief for those who may have limited ability to independently weight shift or have to sit for long periods.
With an improved range of motion and a reduced risk of contractures, this product supports vital organ capacity including pulmonary, bowel, and bladder function as well as promoting bone health. In addition, the Q700-UP M Ergo reduces abnormal muscle tone and spasticity, making it easier for you to get through your day.
Features:
Modern Design

Perfect manoeuvrability 

Mid-Wheel Drive
SpiderTrac™ 2.0

Gyro Control
The biomechanical standing seating system
Anti-Shear Backrest

90° Centre-Mount Footrest

6 Memory Positions
Bluetooth & iDrive
Switch-It Controls
Biometric repositioning

Pressure relief reminders

Easy-entry system

Footplate to the ground

Raising comfort when driving elevated

Whitmyer headrests

Jay cushions & backs

Stop switch for added safety

Elevate whilst driving with assignable buttons


Crash Tested

It comes complete with the full Mobility World support service. 
FREE 1 MONTH INSURANCE WITH ALL OUR MOBILITY SCOOTERS. 

FREE 12 MONTHS ON-SITE WARRANTY WITHIN OUR HOME ASSESSMENT AREA.

FREE ENGINEER DELIVERY, DEMONSTRATION, AND SET UP (WORTH £199.00) WITHIN OUR HOME ASSESSMENT AREA. 

PART EXCHANGE WELCOME
CALL US TODAY TO ARRANGE YOUR FREE NO-OBLIGATION POWERCHAIR ASSESSMENT!
| | |
| --- | --- |
| BIOMETRIC REPOSITIONING | Moving out of a reclined position often requires the use of the tilt function or to regain your proper seated posture. With the patented Biometric Repositioning, when you move from reclined to a seated position, the SEDEO ERGO will first pass through an intermediary tilted position, using gravity to realign your pelvis in one smooth, effortless motion |
| ANTI-SHEAR BACKREST | Transitioning in and out of recline doesn't need to be uncomfortable. The SEDEO ERGO's power recline is supported by 180 mm of anti-shear to better maintain the positioning of the headrest, and even chin control, during recline |
| PRESSURE RELIEF REMINDERS | Pressure relief reminders tell you when it's time to change position. A log can also be kept for clinicians to review. |
| EASY-ENTRY SYSTEM | The seat cushion is divided into 3 elements. The two lateral side cushions can be swung-out and lifted off, ensuring a comfortable transfer. The middle part can also be substituted for a JAY cushion. |
| FOOTPLATE TO THE GROUND | As the footplate goes all the way to the ground, you're able to do standing transfers in-and-out |
| TRACK. ACT. THRIVE. | The Remote Seating app plays an important role in pressure management. With the app, you can self-monitor your pressure relief progress and securely share the data with your caregiver network. The app tracks key seating positions such as tilt, recline, and leg elevation, as well as the duration of these positions |
| RAISING COMFORT WHEN DRIVING ELEVATED | Unlike other powerchairs, our suspension doesn't lockout when using C-Me. So you get the same smooth and comfortable ride over uneven terrain, even when elevated! Plus, anti-pitch technology will keep you safe and stable on inclines too. |
| WHITMYER HEADRESTS | Created to address a range of user needs from basic support to multiple-point control. WHITMYER headrests come in a variety of pad shapes and sizes for superior head positioning and comfort |
| JAY CUSHIONS & BACKS | Designed for pelvic stability, skin protection and comfort, JAY cushions and backs are low maintenance, highly customisable and are available in a large variety to meet your needs. |
| STOP SWITCH FOR ADDED SAFETY | There's safety in stopping. Our added remote stop switch allows an attendant to stop a powered wheelchair via an RF remote from up to 30 meters away. Operating distance is dependent on the environment |
| ELEVATE WHILST DRIVING WITH ASSIGNABLE BUTTONS | With our PATENTED assignable buttons, you can change any button (or assign a second, long-press function) to activate C-ME (even when driving). |
| | |
| --- | --- |
| WIDTH | 620 mm |
| LENGTH | 1070 mm |
| SEAT WIDTH | 400 – 500 mm |
| SEAT HEIGHT | 450 – 480 mm |
| SEAT DEPTH | 400 – 540 mm |
| BACKREST HEIGHT | 510 mm – 610 mm |
| TURNING RADIUS | 1000 mm |
| SPEED | 6 & 8 kph (standard), 10 & 13 kph (optional) |
| BATTERIES | 60 Ah; 80 Ah (optional) |
| MAXIMUM SAFE SLOPE | 10° |
| MAX KERB CLIMB | 100 mm |
| ELECTRONICS | R-Net controller; lights & indicators |
| MIN. WEIGHT | from 160 kg (without 60 Ah batteries) |
| MAXIMUM USER WEIGHT | 120 kg |
Harrow Showroom:
78-80 Station Road, Harrow, Middx. HA1 2RX.

Telephone:
020 3974 2624

Letchworth Showroom:
Birds Hill, Letchworth, Herts, SG6 1HX

Telephone:
01462 418041

Email:
enq@mobilityworld.co.uk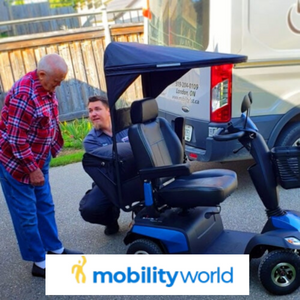 FREE ENGINEER DELIVERY, DEMONSTRATION, SET UP AND 1 MONTH INSURANCE
FREE ENGINEER DELIVERY, DEMONSTRATION AND SET UP (WORTH £199.00) WITHIN OUR HOME ASSESSMENT AREA. 1 MONTH FREE INSURANCE WITH ALL OUR MOBILITY SCOOTERS