Product Information
SUNRISE MEDICAL PREMIUM COMPACT FOLDING POWER WHEELCHAIR QUICKIE Q50R
The QUICKIE Q50R is unlike any other chair on the market. Not only does it fold easily to the size of a suitcase, making it perfect for storing away, but it also has a whopping 50km battery range. That's right - 50 whole kilometres. So whether you're hitting the pavement or taking a stroll through the park, you can be sure that the QUICKIE Q50R will get you there without any fuss.
Thanks to its compact size and lightweight design, it can be easily stored away and transported wherever you go. And with its rear anti-tips, it's easy to move when standing upright.
The QUICKIE Q50R is the perfect wheelchair for road trips and short travels. It's easy to fold and doesn't require any troublesome mechanisms - just flip up the clip at the back, fold the footplate and push the backrest downwards to fold it straight to the floor. Plus, you can even remove the battery to further reduce its weight down to just 32 kg! The QUICKIE Q50R is also ideal for hoisting or for two people lifting in and out of your car.
Plus, because you don't need to remove the battery when folding your Q50R, it can also be conveniently charged folded via the socket on the controller. This premium, space-saving powerchair folds easily in seconds to the size of a suitcase.
Features:
Modern Design

Perfect manoeuvrability 

Foldable 
Can be charged while folded
50km Range

Dual Suspension

Greater Traction

Increased Rigidity

Uphill Stability

50 mm Kerb Climbing
Adjustable Seat Sling
Easy Transfers
Bretheable Foam Cushion
VSI controller
Front rubber damper
Rear shock absorbers
It comes complete with the full Mobility World support service. 
FREE 1 MONTH INSURANCE WITH ALL OUR MOBILITY SCOOTERS. 

FREE 12 MONTHS ON-SITE WARRANTY WITHIN OUR HOME ASSESSMENT AREA.

FREE ENGINEER DELIVERY, DEMONSTRATION, AND SET UP (WORTH £199.00) WITHIN OUR HOME ASSESSMENT AREA. 

PART EXCHANGE WELCOME
CALL US TODAY TO ARRANGE YOUR FREE NO-OBLIGATION POWERCHAIR ASSESSMENT!
STORE IN THE SMALLEST SPACES
When folded, the Q50 R is so compact it can be easily stored away in the porch, underneath the stairs or even in the boot of a car. Thanks to its rear anti-tips, it's easily moveable when standing upwards too
IDEAL FOR CAR HOISTS
At 37.5kg, the Q50 R is ideal for hoisting in and out of your car. You can even remove the battery to further reduce its weight down to just 32 kg.
NARROW WIDTH
Q50 R slim 600 mm base width can fit easily through narrow doorways and negotiate busy rooms.
EASY TRANSFERS
Easily side transfer in and out of your Q50 R by flipping the armrests upwards. The controller also swings outwards, so you can get closer to tables too. Prefer to transfer standing? The centre-mount footrest conveniently flips-upwards, giving you all the space you need
VSI CONTROLLER
To use a powerchair indoors, you need precision movement. That's why the Q50 R comes with the VSI controller by the world-leading Curtiss-Wright Corporation. Intuitive to use, this established and reliable controller responds precisely to your commands. It also helps you keep track of remaining battery life too
1220 mm TURNING CIRCLE
Unlike a mobility scooter, the Q50 R has a small 1220 mm turning circle, making it ideal for indoor environments. Effortlessly turn in narrow hallways, kitchens and other restricted spaces without the need for complicated manoeuvres.
DUAL SUSPENSION
The Q50 R always has a spring in its step thanks to the front rubber damper and rear shock absorbers. Providing responsive cushioning when driving over bumpy or uneven terrain, it'll reduce the amount of shock and vibration that passes through the powerchair.
GREATER TRACTION
Get to grips with greater traction thanks to the large 12" drive wheels. These wheels are designed for real outdoor performance, providing better grip on multiple surfaces. Rear mudguards also help to keep you clean from water or grit flicking up whilst driving.
UPHILL STABILITY
The Q50 R's longer 1030 mm length provides a greater level of stability, so you can safely travel up gradients of up to 10 degrees. For additional safety, rear anti-tips are also supplied as standard too.
INCREASED RIGIDITY
The Q50 R's durable aluminium frame uses oval tubing (as opposed to round). Stronger and less likely to flex, it reduces movement in the frame whilst travelling over uneven ground to provide a more comfortable ride.
KERB CLIMBING
Supplied by Linix (one of the world's leading motor manufacturers), the 200W high-efficiency motors provide all the power you need to overcome tricky terrain (including climbing obstacles of up to 50 mm). Highly optimised, they'll also deliver the very-best range from your batteries too.
LOW-RESISTANCE PUSHING
Pop the Q50 R into freewheel mode and its low resistance motors will work with you to make pushing the Q50 R effortless. The padded foam around the top of the backrest bar also provides a more comfortable grip to push from too.
CHARGE EVEN WHEN FOLDED
Because you don't need to remove the battery when folding your Q50 R, it can also be conveniently charged via the socket on the controller.
REMOVABLE, LITHIUM-ION BATTERY
Weighing just 5.5kg, and with its own dedicated
charging socket, there's no need to unpack your Q50 R when running low on charge. Just pop off the battery and charge separately! It's also removable when folded too.
ADJUSTABLE SEAT SLING
Q50 R's seat (and back) have tension-adjustable straps. These straps provide extra give when negotiating bumpy terrain and can be fine-tuned to suit your shape. They also provide better airflow and ventilation as your body's heat can pass completely through.
BREATHABLE FOAM CUSHION

The foam cushion doesn't just keep you comfortable, it also has a breathable cover that allows body heat to pass through, keeping you cool and dry on those longer trips.
| | |
| --- | --- |
| FRAME TYPE | Foldable |
| LENGTH | Min 86.5 cm, Max 109 cm |
| SEAT WIDTH | 430 cm (cushion width) |
| SEAT HEIGHT | 50 cm (without cushion) |
| SEAT DEPTH | 45 cm (cushion depth) |
| BACKREST HEIGHT | 45 or 55 cm |
| ARMREST HEIGHT | 27 cm (from the base of the seat) |
| CASTOR WHEEL | 8" solid |
| DRIVE WHEEL | 12" solid |
| MAX. RANGE | 50 km |
| SPEED | 6 km/h |
| BATTERIES | 30 Ah, Lithium, 5.5 kg |
| MAXIMUM SAFE SLOPE | 8º |
| MAX KERB CLIMB | 5 cm |
| DRIVE TRACTION | Rear-wheel-drive |
| LIGHT AND INDICATORS | No |
| ELECTRONICS | VSI (Curtiss & Wright) |
| MIN. WEIGHT | 32 kg |
| TOTAL WEIGHT | 37.5 kg (including battery) |
| MAXIMUM USER WEIGHT | 136 kg |
Welcome to the worry-free Motability Scooter & Power Chair Leasing Scheme.
| | |
| --- | --- |
| Weekly Rental | £27.92 |
| Description | Sunrise Medical - Q50 R - Folding |
| Type | Powered wheelchair |
| Class | 2 |
| Number of Wheels | 4 |
| Max Speed | 4 mph |
| Max weight capacity (kg) | 136 kg |
| Max range(miles) | 50 km or (31 miles) |
| Product weight | 37.5 kg |
Harrow Showroom:
78-80 Station Road, Harrow, Middx. HA1 2RX.

Telephone:
020 3974 2624

Letchworth Showroom:
Birds Hill, Letchworth, Herts, SG6 1HX

Telephone:
01462 418041

Email:
enq@mobilityworld.co.uk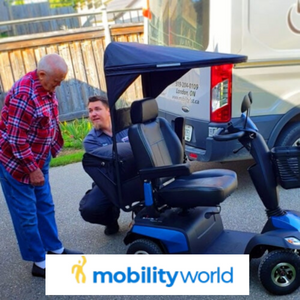 FREE ENGINEER DELIVERY, DEMONSTRATION, SET UP AND 1 MONTH INSURANCE
FREE ENGINEER DELIVERY, DEMONSTRATION AND SET UP (WORTH £199.00) WITHIN OUR HOME ASSESSMENT AREA. 1 MONTH FREE INSURANCE WITH ALL OUR MOBILITY SCOOTERS