The NSD PowerBall
Product Number : SN091189406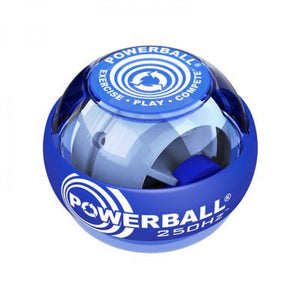 View Similar Products
Product Information
Introducing the innovative NSD PowerBall, a unique rehabilitation tool for wrist and forearm strengthening. This compact device, recommended by chiropractors, offers dynamic therapy for carpal tunnel syndrome, arthritis, repetitive strain injury, wrist injuries, tendonitis, and tennis/golf elbow. 
Featuring a high-performance 250Hz rotor, the NSD PowerBall generates substantial gyroscopic inertia for its size. When spun, it delivers a smooth, therapeutic effect that's perfect for 5-7 minutes of daily use. As an effective non-impact exercise, it precisely targets damaged areas while reducing the risk of further injury. 
Experience the power of the NSD PowerBall in a sleek translucent blue and white design. This versatile tool guides your wrist through its natural range of motion, while providing simultaneous resistance that adapts to your personal pace. Incorporate the NSD PowerBall into your home workout routine and see rapid, efficient improvements in wrist strength and flexibility.