Product Information
Veloped Tour 12er
With the Veloped Tour, you will enjoy daily comfort and practicality. It is very well suited for taking a stroll in the park, for going shopping and for everyday activities. The roomy basket loads your groceries from the supermarket, and bringing them home is a joy with all the benefits of the climbing wheel and the air-filled tyres.
NEW MODEL: The new Veloped Tour 12er L is 1.2 kg (2.6 lbs) lighter than the previous model.
To provide optimal seating comfort, the seat depth has been increased to 30 cm.
The Veloped Tour is tested and fully approved according to the European standard for rollators/walkers (ISO-11199). It also has a CE mark.
The Trionic Veloped Tour presents a new dawn for walking assistance. It's the first true Veloped, from Sweden. The Trionic Tour allows you to enjoy all the comfort and practicality of a Trionic Veloped within your urban environs. It is perfect for either shopping at the French market, traversing to the symphony at the park, or simply taking strolls in the downtown city center- all in complete control and confidence no matter the terrain.
The supreme nimbleness of the Trionic Tour Urban Walker will astound you. Larger and more stable than a traditional walker/rollator, the Trionic Tour still retains a lighter feel, with a tight turning radius, a cushioned ride, and a host of features and benefits you will enjoy for its aesthetic as much as you will for the extreme functionality.
Functions & Features
The product is equipped with the following functions and features:
12" Big Wheels. 

Performance is Everything. 

A bigger wheel simply performs better than a small wheel. With the 12"/31 cm big wheels you'll manage obstacles and rough ground, and your comfort level will increase on any uneven surface.
Foldable Frame. Easy Storage. By pressing the buttons on the telescopic folding stay, you can fold the Veloped in two steps. When folded half-way, it still rolls when you push it and you can easily pass narrow doorways etc.
Trionic Climbing Wheel. 

Conquer All Obstacles. 

With the unique and patented Trionic Climbing Wheel you'll easily overcome up to 13 cm high obstacles like curbs, rocks and roots, without having to lift the Veloped at all.
Slide the Seat Forward. 

Enjoy an Upright Posture. 

When the seat is slid forward the Veloped provides plenty of walking space within the frame. This means that you can walk closer to the grip handles, which automatically results in a more upright and ergonomically correct body posture. The U-shaped and ergonomic grip bar offers several grip positions, and while seated it acts as a back support. The grip bar can be freely height-adjusted in order to suit your body height perfectly.
Air-Pressured Tires. 

Performance is Everything. 

The product is equipped with air-pressured tires that offer you a softer ride and unbeatable comfort. As they do not cause vibration like solid tires to do, you are less prone to suffer pain and discomfort.
All-Terrain Brakes. 

Safety First. 

Thanks to the Trionic All-Terrain hub brake system you can always rely on an optimal brake performance, regardless if you are walking in sunshine, pouring rain or deep snow. The brakes are fully protected from dirt, water and snow.
Trionic Brake Lever. 

No More Plastic. 

The all-aluminium brake lever offers you a solid and high quality feel. When activating the parking brake the parking trigger is easy to operate, and it offers you three different options to engage it.
Comfort Seat & Basket. 

Water-Repellent & Durable. 

The seat and the basket are both made from durable and water-repellent 600D polyester fabric. 

The 25 cm deep seat can be slid forward in order to offer you greater leg space when walking. 

The roomy basket has a zippered pocket for smaller items, with an integrated rain cover.

Detachable Wheels. 

Easy to Transport. 

The product has detachable wheels with push-button quick-release axles, and you can quickly and easily detach the wheels in order to minimize the transport weight and the dimensions.
Award-Winning Grips. 

Perfect for Your Hands. 

The Ergon GP1 grips offer you a very comfortable grip. They are ergonomic and distribute the weight you put on them evenly. The grips are angle-adjustable and come in sizes S & L.
All-Terrain Design. 

Enjoy the Outdoors. 

Thanks to its 3-wheeler design, the patented climbing wheel, and considerably bigger wheels, the Veloped is the only truly off-road capable walker/rollator in the world. When walking on uneven and rough ground, the Veloped beats any rollator, every time.
The Veloped Frame. 

Strong, Cool & Modern. 

The Veloped has a strong, cool, and highly modern aluminum frame. The frame is welded from unique hydroformed 6061-T6 alloy tubing, which guarantees you years of hard use. A 2-color metallic paintwork and a cool sticker kit make for stunning looks.
100% Stainless Steel. 

True Outdoor Quality. 

Since years Trionic uses screws, nuts, washers, axle shafts, and small parts made from stainless steel. The Velopeds and Walkers also have quick-release axles made from stainless steel.
Trionic X-Country Tires. Lighter, Softer, Faster. Puncture protection, skin walls, reflective logos, and a carcass made from a high-quality 60 TPI weave that is supple and very strong. The Trionic X-Country tire offers You lighter weight, a higher comfort level, and a better grip.
It comes complete with the full Mobility World support service.
Optimize Your product

We are all unique, and we have different preferences and requirements. When ordering you can choose between different tires, tubes and grips, in order to customize your product according to your needs.
Grip Options.

Fit Them Like a Glove.
Customize your cockpit with different grip options. The Ergon grips are offered in two materials, rubber and BioKork, and in two sizes; S (6.5-8.5) and L (8.5-12.0).
Veloped Grip Options

You can choose between two different grips, that are both available in two sizes.

Ergo 1 – size M/L
Ergo 1 grip which is delivered as standard.
Ergon GP1 (Small)
Ergon GP1 (Large)
The original ergonomic grip. The GP1 sets the Worldwide standard in ergonomic comfort, materials, and quality.
The GP1 eliminates numb hands, aching fingers, and tired forearms.
The uniquely shaped grip body is made from 100% German, TÜV-certified rubber compounds of the purest quality – with infused Medical-grade white mineral oil for improved flexibility and durability. A forged aluminum clamp allows the grip angle to be adjusted for perfect fit, can be easily readjusted, and eliminates twisting once installed.
Two sizes: • Size S for hand size 6.5-8.5 • Size L for hand size 8.5-12.0

Ergon GP1 BioKork (Small)
Ergon GP1 BioKork (Large)
Combining ergonomics, function, and sustainability, the GP1 BioKork is a top-rated grip and a consumer favorite.
The grip is made from 40% cork, sourced from sustainable forests in Portugal, which are certified for their ecologically sound production. This green, sustainable theme is echoed throughout the complete construction of the grip, with an inner core made of a reinforced plastic containing natural fibers, which make up 20% of its mass.
Two sizes: • Size S for hand size 6.5-8.5 • Size L for hand size 8.5-12.0
Tire Options.
Optimize Your Ride.
You can choose between three different tires that suit different types of ground and terrain, all depending on where you will use your product.
Veloped Tire Options

You can choose between two different air-pressured tires, that offer different tire treads and performances.

Trionic X-Country Air-Pressured Tire

Our top tire choice! All-round tire for off-road conditions and city use. Thanks to the flexible carcass the X-Country offers a very good suspension. The mountainbike-like tread suits off-road use, trails, gravel, snow and also tarmac and cobblestones. With T-Guard puncture protection, "Skin Wall" and reflective logos.
14" Inches
12" Inches
Schwalbe Big Apple Air-Pressured Tire

The unique Balloon-tire design from German Schwalbe provides you with maximum air suspension. The smooth profile, KevlarGuard puncture-protection and reflective lining make the Big Apple perfect for everyday walking – day and night.
14" Inches

12" Inches
Optional Accessories
Our range of accessories is designed specifically for the different Veloped models. Choose from lights, bottle holders, pumps and further accessories. The selection of Trionic Veloped Accessories fit the Veloped Sport, Veloped Tour, Veloped Trek, Veloped Golf and Veloped Hunt. Having the correct accessories can greatly improve your walking experience.
Veloped Cane Holder
2-piece cane holder for the Veloped, that also works as a safety strap when the Veloped is folded for transport.
Veloped Bottle Holder
Universal size bottle holder, that is fastened to the Veloped frame with a quick-release clamp.
Color: black
Sports Bottle
High-quality sports bottle made odour-free plastic.
Volume: 55 cl
Veloped LED front light
Front light with a super bright white LED that provides excellent visibility. Rubber strap allows tool-free mounting/ removal and multiple mounting positions. Ideally to be fastened to the Veloped's grip bar.
Wire Lock
Sturdy wire lock with frame bracket and set of 2 keys.
Veloped Rain Cover
Rain cover that protects the seat and basket of the Veloped.2-color design: silver/black
Veloped LED rear lights (pair)
These two rear LED-lights let you be seen everywhere.
With flashing or steady mode, and with flexible straps that enable multiple attachment positions. The new lens enhances side visibility and thereby increases your safety.
Incl. batteries ( 2 x CR2032, 3V).

Veloped Storage Rain Cover
Water-proof cover for storing your Veloped outdoors. Three hooks and an adjustable strap secure the cover so that it stays in place.
Color: silver
Multi-Function Pump
This smart pump can be used both as a hand pump and a floor pump. A fold-out foot pad holds the pump steady for better leverage. The T-handle provides a comfortable grip, and the flexible hose prevents the valve from being damaged or broken.
Incl. frame bracket.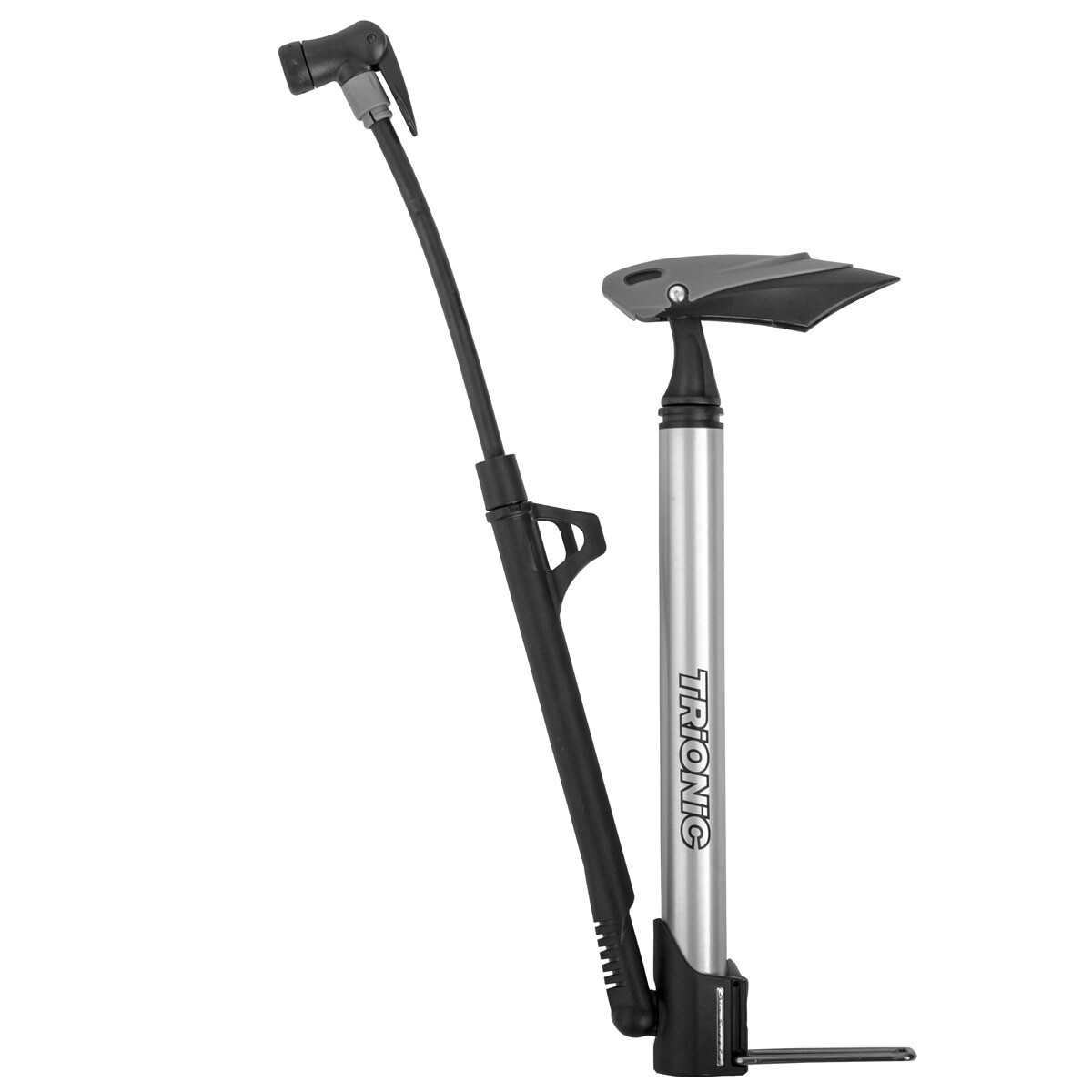 Veloped Transport Bag
Frame Size
Large
Transport weight – without wheels
17.6 lbs (8 kgs)
Product Total weight
27 lbs (12.2 kgs)
Max user weight
150 kgs (23.6 stones)
Recommended Body height
185 - 205 cms (73" - 81" Inches)
Wheel size
31 cms (12" Inches)
Tyres
Trionic X-Country w. puncture protection
Tyre type
Air-pressured / Tyre + inner tube
Tyre dimension
30.5-5.6 cms (12"x2.2" Inches)
Tyre options
• Schwalbe Big Apple
• Continental TourRide
Inner tubes
Butyl rubber w. Schraeder/car valve
Grips
Ergon GP1 grips size L 8.5-12 Ergonomic & adjustable (angle)
Grip height
82 - 102 cms (32.3"- 40.1" Inches) Adjustable
Grip width (centre-centre)
48 cms (19" Inches)
Grip bar
6061-T6 aluminium (no plastic parts)
Brakes
Trionic All-Terrain hub brakes
Brake levers
Trionic all-aluminium brake levers w. Kraton rubber finger surface
Brake functions
Motion & Parking brake
Length
102 cms (40.2" Inches)
Width
79 cms (31.1 Inches)
Dimensions folded (Height)
82 cms (32.3" Inches)
Dimensions folded (Length)
106 cms (42" Inches)
Dimensions folded (Width)
42 cms (16.5" Inches)
Transport dimensions – folded without wheels (Height)
68 cms (27" Inches)
Transport dimensions – folded without wheels (Length)
84 cms (33" Inches)
Transport dimensions – folded without wheels(Width)
42 cms (16.5" Inches)
Seat height
63 cms (25" Inches)
Seat width
44 cms (17" Inches)
Seat depth
30 cms (11.9" Inches)
Seat base
600D polyester, water-repellent w. PU-cover on the reverse side
Seat cover
600D polyester, water-repellent w. PU-cover on the reverse side
Basket
600D polyester, water-repellent w. PU-cover on the reverse side
Reflectors
3 frame- & 2 grip reflectors
Frame
6061-T6 aluminium, made from hydro-formed, TIG-welded and T6 heat-treated aluminium tubes (no plastic parts)
Harrow Showroom:
78-80 Station Road, Harrow, Middx. HA1 2RX.

Telephone:
020 3974 2624

Letchworth Showroom:
Birds Hill, Letchworth, Herts, SG6 1HX

Telephone:
01462 418041

Email:
enq@mobilityworld.co.uk
Frequently Asked Question
Can I leave my Trionic outside in all weathers?
The main parts are made from aluminium and the small pieces are from stainless steel so that you can store the Trionic outdoors. Preferably with a cover over it. It is, however, better to store it indoors.
How can I get my rollator serviced?
The best option to service your Walker or Veloped is to visit the nearby bike repair shop. Since the All-terrain Brake System is similar to bicycle brakes, so they know what to do. Is there any part they need for the service? We are happy to help out.
Where do I find my product number and/or serial number?
Both the product number and serial number are usually located on the label on the rear of the product. They are also located in the User Guide which came with the product.