Ultra Pill Splitter
Product Number : PR61510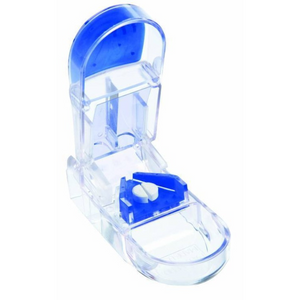 View Similar Products
Product Information
Ultra Pill Splitter
The Ultra Pill Splitter includes a blade guard for added safety while the ergonomic design easily cuts pills in half for those with difficulty swallowing pills or for proper dosage.
The Ultra Pill Splitter can be used to cut medication doses in half or is useful for those who have difficulty swallowing pills.
The ergonomic over-mold design includes finger grooves, and the Blade Guard creates a safe cutting environment.
The unique V-shape design grips pills for an accurate cut making this a premium medication-splitting device
The Ultra Pill Splitter can accommodate pills of different sizes and shapes, and the durable construction ensures long-lasting use.
This device is easy to clean and maintain and can be stored in a compact space. The added safety features of the blade guard and ergonomic design make it a reliable choice for individuals with limited strength or dexterity.
With the Ultra Pill Splitter, you can be confident that you are taking the right dosage of medication in a safe and efficient way.