UpEasy Power Lifting Cushion
Product Number : SN091088772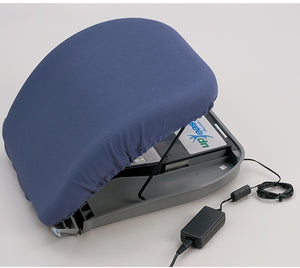 View Similar Products
Product Information
The UpEasy Power Lifting Riser Chair Cushion is an affordable and portable solution that effortlessly transforms any armchair or sofa into a sturdy riser chair. Designed for users needing assistance sitting or standing due to insufficient upper or lower body strength, this lightweight power cushion provides 100% lift support and ensures safety with its non-slip base.
Weighing only 5.4kg, the UpEasy Riser Chair Cushion features a built-in carry handle for easy portability and a machine washable blue cover that can be wiped clean with a damp cloth. Its compact dimensions, with seat depth at 480mm (19"), seat width at 410mm (16"), maximum seat height at 250mm (10"), and minimum seat height at 60mm (2 1/2"), make it a versatile accessory for those who already own a riser chair or are in need of one.
To operate the UpEasy seat, simply flick either of the detachable power levers up, then place your hands on the chair arms while being lifted. The power cushion will stop automatically at its maximum height, or can be stopped by gently pushing the lever down. This ensures smooth operation and easy side accessibility. With a cable length of 3.7m (12ft) and max user weight of 21 1/4st., rest assured that the UpEasy Power Lifting Riser Chair Cushion offers both convenience and safety for its users.
Discover the perfect lifting aid with UpEasy's reliable, safe, and easy-to-use Power Lifting Riser Chair Cushion – a truly dependable choice!