Harley Sacroiliac Support Belt
Product Number : SP24249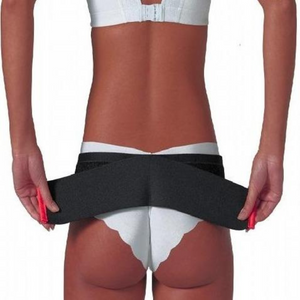 View Similar Products
Product Information
HARLEY SACROILIAC SUPPORT BELT
The Harley Sacroiliac Belt is ideal for most hip and low back pain, pelvis instability, and sacroiliac syndrome.
This support helps stabilize the sacrum, whilst adding pelvic support and re-establishing the joints natural movements.
Sacroiliac Belt is sold in sizes, small to extra large.
The side pulls provide additional support. If this product is showing as out of stock (red dot), please note that as we manufacture this product on site it can normally be manufactured and available within 2/3 days of receiving your order.
Discover relief and support with the new Harley Sacroiliac Support Belt. If you suffer from hip or low back pain, pelvis instability, and sacroiliac syndrome then you're in luck – this product is designed specifically to provide much-needed relief from those painful conditions!

Made from comfortable, stretch fabric and featuring adjustable side pulls for extra security, the Harley Sacroiliac Support Belt helps stabilize your sacrum while providing pelvic stability and reinforcing natural movement. Easily customizable sizes ranging from small to extra large ensure that the fit is just right. With the Harley Sacroiliac Support Belt strapped onto you, you can go about your daily activities without those aches and pains holding you back!

No more worrying if your size is sold out – we manufacture this product right here on site, so whatever size you order will typically be available within a couple of days. Don't wait until it's too late to act; get your own Harley Sacroiliac Support Belt today!